Hi Fitness Peeps – just wanted to give you a heads-up.
Brad Schoenfeld and I just got a paper published in Sports Biomechanics titled:
An electromyographic comparison of a modified version of the plank with a long lever and posterior tilt versus the traditional plank exercise
We wanted to see how increasing the lever length and posteriorly tilting the pelvis affected core muscle activity in a plank, so we compared four plank variations:
traditional plank
long lever plank
posterior pelvic tilt plank
long lever posterior tilt plank (LLPTP)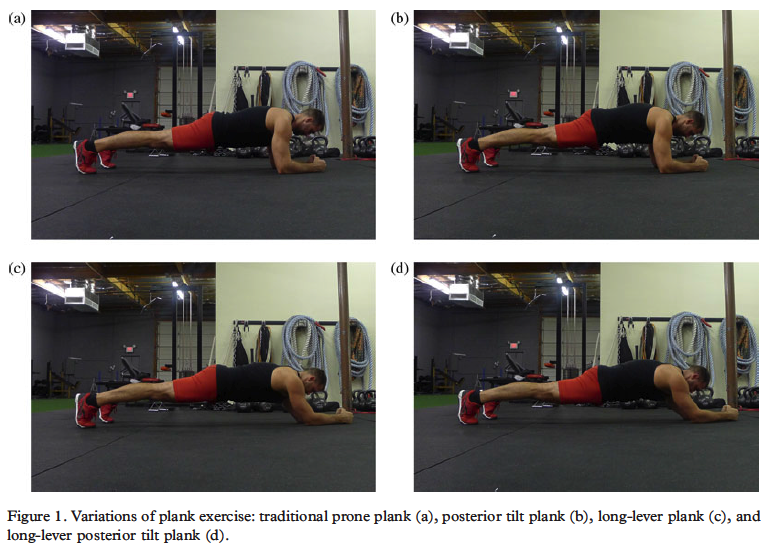 By the way, here's how you perform an LLPTP (and HERE is an article detailing the form):
Results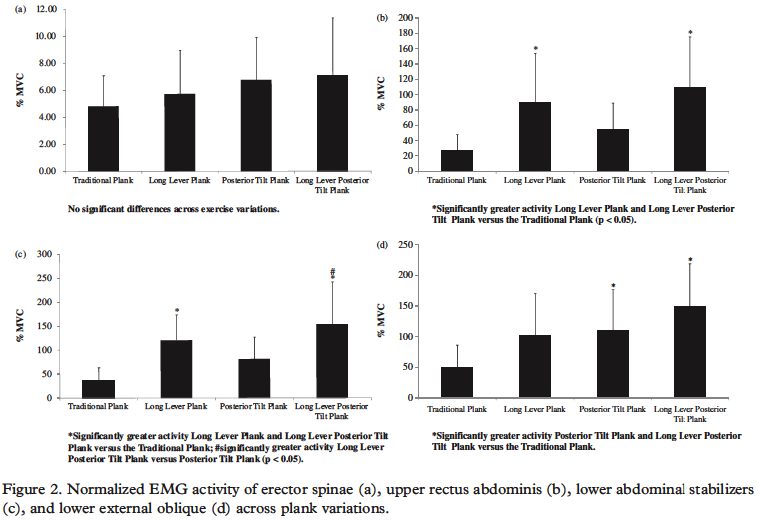 Discussion
As you can see, the traditional plank doesn't activate the core very well. This doesn't imply that it's a useless exercise; quite the contrary. It's a beginning level plank that every lifter should master prior to progressing to more challenging variations.
Lengthening the lever actually had a greater affect on core muscle activity than posteriorly tilting the pelvis. This surprised both Brad and I, who hypothesized that the PTP would have a greater affect than the LL.
Combining the PTP and LL was, to no surprise, the most effective strategy for maximizing core muscle activation in a plank. With the LLPTP, you get over 100% of MVC out of the upper rectus abdominis, lower rectus abdominis/internal obliques, and external obliques. This is a big bang movement for the anterior core (not the erectors though – they barely get worked in any of the tested plank variations).
Take home message: planks can be highly effective when you know how to modify them and increase the challenge. This is something that I learned from Pavel Tsatsouline, who thought up the RKC plank years ago. Give the RKC plank or the LLPTP a try and see for yourself how demanding they can be!