There's much more to strength coaching than sets, reps, and cues. In today's article, Rob Panariello discusses some oft-overlooked aspects of the strength coach occupation. Many current and aspiring strength coaches should spend more time considering these aspects as it helps shape their careers and define their legacies.
Robert A. Panariello MS, PT, ATC, CSCS
Professional Physical Therapy
Professional Athletic Performance Center
New York, New York

In a recent conversation with a friend, a history buff, who had visited a Civil War cemetery while on vacation, we spoke of a poem that we were both familiar called "The Dash", written by Linda Ellis. We discussed how individuals, when visiting loved ones who had passed or in this case, a National Military cemetery, will often inspect various tombstones observing a persons birthdate as well as their date of passing. A simple math calculation will determine their lifespan; however that calculation does not define the individual's life. What is often ignored is the "dash" between those dates. It is not the dates of birth or death that is most meaningful; it is the "dash" between these dates that signify how a person was recognized during their time here on earth.
A while back Bret had posted the article How to Graduate from Powerlifter to a Strength Coach, as this commentary comprised both training exercises and guidelines for consideration during the training of an athlete. Our particular "dash" conversation had me reflect upon the additional roles and lessons that should be appreciated by a young Strength and Conditioning (S&C) Coach or those individual's with the desire to enter the S&C profession, as they will certainly have an influence upon a coach's career.
The S&C Coach, as with any coach, assumes a position of authority which includes the opportunity and responsibility to do more than just "coach". Surely the S&C Professional must be proficient in the instruction of the technical component of the exercises their athletes will perform, as well as the development of the program design their athletes will follow, as one principal responsibility is to enhance the necessary physical qualities of the athlete for optimal athletic performance. This is where the S&C Coach will likely be most accountable and assessed. However, there is also an opportunity for the S&C Coach to influence much more than that.
Some additional considerations as the S&C Professional include, will you be a leader or a follower? Will you enhance your knowledge based on the scientific evidence available? Will you establish an educated thought process based on fact vs. opinion? Will you have the foresight to both confront as well as appropriately utilize this information to enhance your ability to adapt, instruct, and develop both training exercises and programs for the benefit of your athletes or will you just mimic what other S&C Coaches implement or simply tell you to do? Will you take advantage the opportunities presented to you, no matter how difficult, as well as work to establish additional pathways to develop into the best S&C Professional possible?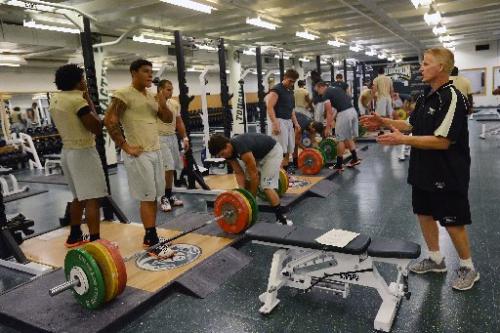 Will you arrive to work and embrace the necessary and often absurd number of daily hours to perform to the best of your ability, or will you arrive at a time of convenience, basing your performance upon what is best suited for you? Will you acknowledge that your role is all about the athletes? It is a privilege to work with your athletes as the fact of the matter is that it is all about them as they are the reason why the S&C Professional not only has a career, but why there is a S&C Profession, period.
As your S&C career progresses, including the time when you're eventually employed as a Head S&C Coach, will you "lead from the top" and provide and instill in both your staff and players the lessons and values that are associated with a successful career? Lessons like being on time, hard work, discipline, accepting both instruction and criticism, the importance of putting the team before oneself and the many other valuable lessons and enlightening circumstances, too great in number to mention in this commentary. These lessons are of significance as both your staff and players will unquestionably utilize and partake in these lessons as they continue and/or determine their own future career of choice.
As you achieve more and more success, will your office door be closed or will it remain open to welcome and mentor the young and eager future S&C Coaches who seek your advice and instruction as you hopefully have never forgotten that it was not so long ago you were once a young S&C Coach yourself. Is your door open for your athletes, as there will likely be occasions where life may deal them a hand that they cannot resolve alone, nor have anything to do with the weight room. There are undoubtedly many other similar considerations and examples that may be included in these types of situations as well.
No one would argue that it is essential for the S&C Professional to be proficient in the technical aspect (i.e. evaluation, exercise selection, program design, etc…) of their position; however coaching is certainly much more than that.  We can all recognize that no one individual is perfect, and with this acknowledgement there is very likely a time when a special event will occur. There will eventually be a time when every S&C Professional will reflect upon their personal career, a career that will mean more than what had transpired in the weight room. They will envision their accomplishments, their mistakes, their relationships, perhaps what they would have done differently, as well as many other thoughts and considerations. The S&C Coach's years of service (dates) may define the length of their career, or the time spent at a specific institution, but it is the dash that will determine their legacy.