Today's blogpost is a guest post from Brandon Alleman. Brandon's views and experiences jive with my own, and I feel that this is very well-written. In the near future I'll post a video further discussing hip thrusts, safety considerations, biomechanical considerations, and options.
As a health, fitness, and rehabilitation professional, for the past 13 years I have had the pleasure of working with athletes and non-athletes alike.  These individuals range from the elderly with spinal pathologies to elite athletes seeking an improvement in sports performance.  The last 11 years of my career have been dedicated to helping individuals overcome chronic pain and chronic degenerative conditions, particularly where spinal pathology is implicated.
It has come to my attention recently that some very prominent names in the strength and conditioning community have called out Bret for his enthusiasm for the hip thrust exercise.  I personally have received numerous emails from colleagues (from various schools of thought) asking my opinion on the safety and efficacy of the exercise.  Now, Bret is a big boy and he certainly does not need anyone, let alone me, to defend his position on the exercise and its many benefits.  Anyone with more than two functioning neurons can see that he has the research and more importantly the experience to back up his claims.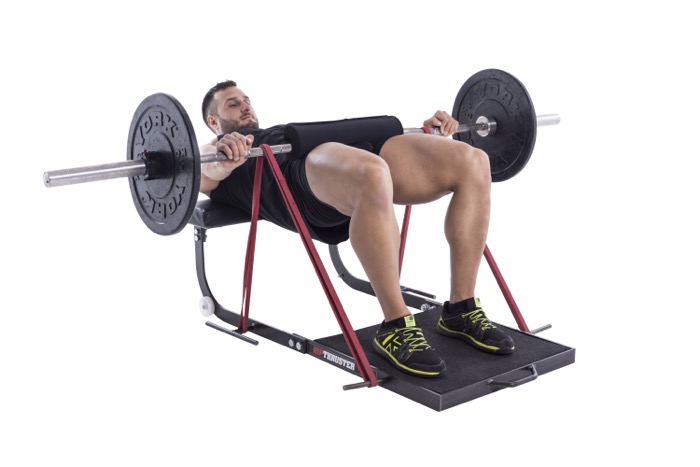 The Hip Thruster is the best way to do the hip thrust – stable and versatile!
My intention in this guest Blog (thanks for the opportunity to speak to your readers Bret), is to simply share my experience with the exercise in a clinical and rehabilitation setting.
First thing I would like to address is the "haters" who say that the exercise (hip thrust) is "dangerous" and potentially "damaging to the lumbar spine".  That, in my opinion, is complete and utter bullshit!  As someone with an existing lumbar spine pathology (I have a disc derangement at L4/5), and having worked with hundreds if not a thousand clients with every lumbar spine pathology known to man, I can say that the exercise is completely safe and very effective for decreasing pain in the low back and hip areas – when prescribed and coached properly.
To put things into context, yes, the hip thrust can be dangerous.  Exercise is just like a drug – if you give someone the wrong drug at the wrong time, or you give them too large of a dose – you can harm or even kill someone.  The same principle applies to the hip thrust and EVERY other exercise out there.  A squat can be dangerous, a Romanian Dead Lift (hip hinge) can be dangerous, hell – something as simple as a bicep curl can be dangerous if prescribed and coached inappropriately.
The hip thrust is no different than any other exercise on the planet in its application.  It must be introduced to the client/athlete and the movement pattern and basic biomechanics must be mastered in an unloaded environment first; then, and only then, should the exercise be progressed (and I know Bret has covered this in previous Blogs/Vlogs).  Of course, the abdominal wall and the lumbo-pelvic-hip complex should be thoroughly assessed for muscular/ structural balance, functional integration, firing sequence, etc., and corrective measures need to be applied where threats to function are identified (those measures are beyond the scope of this post).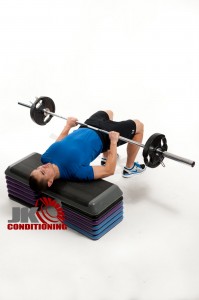 Having said that, I have personally seen clients with more than one – in most cases at least several – lumbar spine pathologies learn to effectively perform the hip thrust from the floor in an unloaded environment and progress to performing it elevated and loaded with a barbell in a very short period of time –some in as little as a few weeks.  The common theme that I have noticed is as follows: the stronger they get in the hip thrust, the less back pain and hip/pelvis issues they have.  Can all of their improvements and decreased pain levels be credited to the hip thrust alone? NO. To say such a thing would be taking an "absolutionist" view of the exercise.  I personally do not feel, nor have I seen, that any ONE single exercise will fix all of an individual's issues.  However, the intelligent application of the hip thrust has proven to be invaluable in my practice.  It goes without saying that one must be taught proper lumbo-pelvic control during the exercise and that the A-P length-tension ratios around the pelvis be balanced for the exercise to have maximal benefit.  I am sure there is research somewhere to back this up and no doubt Bret can point you in that direction.  I do not care if there is research on it or not because I have seen the exercise, when applied properly, help many people (myself included) decrease pain.
In terms of aesthetics, personally I never really had an ass throughout much of my life.  I didn't actually develop one until I got serious with the hip thrust – and yes, I have always used FULL squats, RDL, etc. in my training.  Working my way up to 3Rm at 315 pounds over the course of about 4-5 months gave me an ass that can be appreciated by the opposite sex.  For me, thrusting more than that is a bit of overkill. Let's not get things twisted though; the hip thrust is only part of my lower extremity training.  I love traditional dead lifts off of a box, RDL's, front squats (don't love front squats but you get the idea), etc.; and of course there are single-leg movements in my personal programs and the programs of my clients.
Biomechanically, I view the hip thrust as a descended bend pattern. My objective is to help my clients develop strength in whatever area(s) will have the greatest carryover to his/her work/sport environment.  Therefore, I don't want them solely to develop an ass-load (pardon the pun) of glute strength lying in a supine position.  For most, transferring that strength into a standing position is critical to enhancing function and performance.  I like Bret's 3 Most Basic Lower Body Movement Patterns.  I agree that these are the most basic.  My view, however, is that those must be part of a program of progression designed to allow for the optimal performance of the 3 Most Essential Lower Body Movements for Survival: the Squat, the Lunge, and the Bend (hip hinge).
To conclude, the hip thrust is an indispensible tool for preparing for more complex lower extremity movement patterns (such as primal standard and ascended bending patterns – ie. Single-leg RDL).  The movement can also be used to decrease and eliminate chronic lumbo-pelvic-hip pain when applied intelligently as part of corrective exercise strategy.  It can be a very effective tool for improving the aesthetics of the glutes, again when balanced within a given program design.  Anyone claiming otherwise, either has not tested the application of the exercise or has not used the exercise personally.  Those are my $.02 on my experience with the hip thrust.  Keep on doin' your thing BC.
Yours in Strength,
Brandon J. Alleman