I'm not going to beat around the bush, I freakin' love 
How to Read Fitness Research
, a product that my friend Mark Young put together. It's filled with great content, it's a series of audio seminars so you don't have to read anything, and it comes with three good bonuses too. I believe that everyone involved in strength training should own it. I'll let the interview do the talkin'.
1. Hey Mark, let me first congratulate you on putting together an amazing product! Would you please describe your product to my readers.
Thanks Bret!  Basically my product is a seminar series geared towards teaching people how to acquire, read, and implement fitness research to create the best programs for fat loss, muscle gain, peformance, and rehabilitation.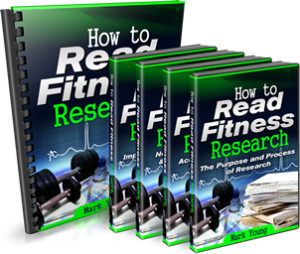 2. Thanks Mark. Now, what makes you qualified to create such a product? In other words, just who in the hell do you think you are? 
In terms of my academic background, I have a degree in kinesiology and a minor in psychology from McMaster University and have also done graduate level research in biomechanics and exercise physiology as part of the world-renowned exercise metabolism research group under the guidance of Dr. Stuart Phillips.  I've presented a poster at the World Congress of Biomechanics and my grad thesis work comparing the effects of eccentric and concentric contractions on muscle growth is submitted and awaiting publication (hopefully) in a major peer reviewed journal.
On the applied side of things, I've been a strength coach (or trainer…or whatever you want to call it) for about 11 years now and my work has been published on T-Nation.com, WannaBeBig.com, StrengthCoach.com, MuscleAndFitness.com, MuscleAndFitnessHers.com, and in print mags like Muscle and Fitness, and Experience Life.
On top of all that, I provide services to one of Canada's very few government funded Bariatric Medical Programs for the evidence based treatment of obesity.  In short, I feel like I've got a good balance between understanding and application of research in the real world.
3. Fair enough! What motivated you to create the product, and why would a trainer or coach benefit from purchasing it?
Basically, I reached a point where I couldn't stand all of the pseudoscientific nonsense that was being spread on the internet with regards to programs for body recomposition, performance, and rehab so I decided to do something about it.  It can be just as confusing for trainers and coaches as it is for the general public and I wanted to put a stop to that.
Despite being told by many of my colleages in the fitness industry that this product won't sell very many copies, I feel it is a much needed contribution to this field.  I also feel that this is one industry where much of the public and the professionals are all reading the same material and that if we are to differentiate ourselves from the general public we have to step up our game and act like professionals by implementing only evidence based practices instead of following industry trends.
I think this product will help any strength coach or trainer get their hands on relevent research, not get lost reading studies, and implement the best of them with their clients.  More importantly, it will help them cut through the confusion so they can create programs that bring about the absolute best results for their clients.
4. Now, what about general gym-rats and weekend warriors; should they consider purchasing the product? 
Let me just say this; I recently saw a fitness product released that was based on a specific fiber type and its effects on fat loss.  The claims were pretty far out there and anyone one a reasonably sound research background should have had their BS detectors going off like crazy.  But guess what?  Based on the statistics on Clickbank (and talking to other people who participated in the launch) I'd say they've probably sold THOUSANDS of copies.  And get this…the product is almost $100!!!  So someone out there is making hundreds of thousands of dollars off of a scientific theory that doesn't hold water.
Now that doesn't mean that the program doesn't work.  It
might
work because of mechanisms that are different from what the creators think they are.  And it certainly doesn't mean that anyone who creates a product that isn't evidence based is trying to rip you off.  Maybe they don't know any better either.  What it does mean though, is that you should know whether the theory behind what you're buying has any merit before breaking out your wallet and spending your hard earned money.
My product will help you do that.  So yes, I think weekend warriors should consider purchasing this product.
5.  What would you say to this comment? "I don't need your silly product. If I want to learn something I defer to the bodybuilders and powerlifters. They're much more jacked than you researching geeks and they obviously know what they're doing. Branch Warren didn't use Pubmed to build his 22 inch guns! You keep reading journal articles and I'll keep doing concentration curls, and let's see who is more yolked in one year?" 
I will state that most people that have achieved any degree of success in bodybuilding probably have more pharmaceuticals in their bloodstream than most would care to acknowledge.  And still, even if you were on the same drugs, you probably wouldn't even look close to the same because they have incredible genetics on their side.
Unless you are one of the lucky few (who is also prepared to spend thousands of dollars on anabolic substances) then you're pretty much out of luck.  Instead, you'd be wise to focus on maximizing what you've got using the best science available.
6. Okay I'm sold! Thanks for your time Mark. Where can my readers go to purchase the product?
No.  Thank YOU Bret for doing this interview.  For those who are interested my product How to Read Fitness Research, please 
CLICK HERE
. At $37 (for the time being), it's an amazing deal.