This week, I was named on three different lists:
It's always great to be featured on these lists. To be honest, if I wasn't listed on these, I'd be disappointed. I work my balls off to put out good info and positively influence the strength training community, so it's good to be noticed. I did some investigating and saw that Google Trends shows that my popularity is currently at an all-time high. The Alexa ranking for my website outperforms every one-person strength and conditioning blog on the Internet and my website traffic is at an all-time high. I published 10 peer-reviewed articles in 2014, which is more than almost anyone on these lists (most people have no idea how much work goes into journal article publishing). My Facebook Fitness page now has over 54,000 followers (and they're all legit). And the quality of my content has consistently risen. Chris and I publish the best research review on the Internet for new strength training, biomechanics, and physical therapy research – we sift through around 100 journals every month in order to positively influence the way personal trainers, strength coaches, and physical therapists conduct their business.
However, I won't lie. The competitive side in me wishes I was listed higher on these lists. In addition, I'm disappointed when 1) my favorite colleagues aren't featured on the lists alongside me, and 2) when certain pseudoscientific individuals make the lists, indicating that you don't have to be credible, just popular. And the criteria for these lists is never clear to me; is objective criteria being used or is it solely subjective?
For example, in 2013, I was listed at #23 on the JMax Fitness blog, then in 2014, I was listed at #4. Now it's 2015 and I sunk to #13, even though I kicked some serious butt in 2014. With the Greatist list, I was listed at #70 in 2013 and #55 in 2014, but now I'm back down to #64. When I travel, I purposely attend commercial gyms because I want to see what gym-goers are doing around the word. I've personally witnessed that people are using my methods over and above probably any other expert out there. So what's a blogger gotta do to rise up on these lists?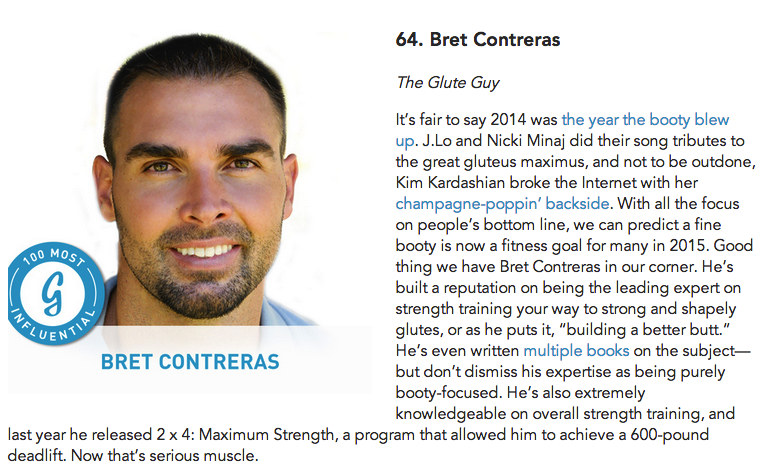 Nevertheless, right now I'd like to focus on what made me happy about the lists. Many of my colleagues and favorite writers including Brad Schoenfeld, Ben Bruno, Tony Gentilcore, Alan Aragon, Layne Norton, Sohee Walsh, Menno Henselmanns, Spencer Nadolsky, and Mike Tuchscherer were named (I know I'm leaving a lot of friends and colleagues out, these are just people who came to mind at first thought). And certain gurus who I won't name were not on the lists, indicating that people are catching on to pseudoscience. Hurrah for science! Thanks to my readers for continued support and thanks to Greatist, JMax Fitness, and Stack for including me on their lists.