Every once in a while I get emails from various coaches, trainers, or bloggers who ask me how I've been successful as a writer in such a short amount of time.  I figured a lot of different people might have this question, so a blogpost is warranted, especially considering the fact that I'm tired of answering this question via emails and will now be able to simply send these folks the link to this post.
I can't tell you how to make millions as I'm not there yet. I'm not well-versed in marketing so I'll steer clear of those methods. What I can tell you is what I've done to be taken seriously in the field and how I've stack the odds in my favor for success. Your path will be much different than mine, but hopefully you can learn from the route I've taken.
Decide How You Measure Success
The first step to success is to figure out exactly how you want to be successful and then work backwards from there. As Steven Covey says, "Begin with the end in mind."
How you measure success will play a big role in your approach to a career in fitness. Most people determine success by either 1) the amount of money they make, 2) their popularity and influence, or 3) the number of people they help. If you go about it right, then you can do a good job of succeeding in all three categories.
If your goal is solely to make the most money, you'll need to spend most of your time studying marketing. Sadly, you don't need to know that much about fitness to make good money in this field. If you want to be popular and taken seriously in the fitness industry, then you'll need to study all aspects of the game, from our history, to our terminology, to our movers and shakers and their beliefs, to the various hot topics surrounding our field, to the science and varying philosophies of training. If your goal is to do the greatest amount of good, then figure out a way to reach the masses for free and make sure you promote safe and effective strategies.
There are definitely ways to reach a happy medium and simultaneously achieve financial, popularity, and altruistic success. And if you can't pay the bills as a writer, then you won't be able to continue helping people unless you're independently wealthy or have steady side income flowing in, so it's wise to figure out how to make money from your hard work.
There is nothing wrong with being the strength coach, personal trainer, or physical therapist who simply lays low and does a kickass job with his athletes/clients. In my book, this type of person is a huge success, even though most fitness folks will never know his or her name.
Personally, my sole goal isn't to make the most money possible. This is why I publish journal articles and write abnormally long blogposts such as these. The journal publishing process is a long road and you don't earn any money for doing so, but it's very rewarding and is one way in which you get taken seriously in the field by like-minded fitness professionals. I have plenty of goals and down the road I could see myself spending time as a trainer, a strength-training facility owner, a researcher, a professor, a speaker, and a writer.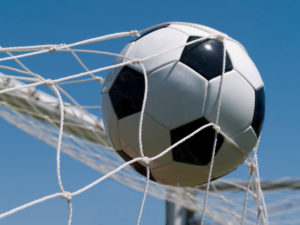 I will now offer some advice and discuss some qualities and habits that have allowed me to be successful in the strength & conditioning field.
Have Patience
Most people don't know this, but before ever submitting an article to a website or posting a blog, I spent:
Eighteen years lifting weights with probably a hundred different lifting partners experimenting with all types of systems including HVT, HIT, HFT, bodypart splits, lower/upper splits, push-pull splits, and total body training

Twelve years training hundreds of clients as a CPT (eight of those years having a CSCS)

Tens of thousands of dollars on strength training equipment from Elitefts and Perform Better

Three years operating my own facility in Scottsdale

Thousands of hours reading and researching on the internet, including time spent lurking on forums, reading all sorts of methodologies, and delving into different topics

Hundreds of hours with electrodes hooked up to my muscles to learn the relationship between resistance training and electromyography
For this reason I can always tell which writers really train and which writers just pretend to train, and which writers are just trying to stir up controversy or pretending to be an expert on something. Last week one of my physical therapist buddies jokingly called me "The Best Bullshit Detector in the Industry," and though I'm not saying it's true, I do know that much of my ability to detect bogus claims is due to the thousands of hours I've spent in the weightroom.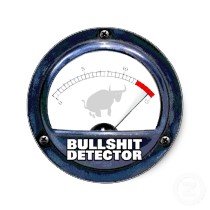 Don't foolishly think that you deserve to publish articles if you've yet to spend sufficient time in the trenches.
Sacrifice
This wouldn't be a big deal for some folks as they're not well-connected, but I am – in Phoenix. Until now, I've lived in Arizona my entire life (35 years). I hang out with my family every single week. I have the best mom in the world, the greatest dad, an awesome older sister, a badass identical twin brother, an amazing niece, wonderful step-parents, two hilarious stepbrothers, and two incredible step-sisters. I'm super-close to my family and we make time to see each other each week. I go to IHOP with my mom and have breakfast, I watch movies with my brothers, and I have dinner with my family every Sunday and we typically watch television, play board games, and/or eat Mexican food together (Ajo Als is our favorite).
I also have a great group of friends back home. We watch UFC fights together, we go out together for a night on the town from time to time, we train together, we have barbeques, and we rent and watch movies every so often.
Equally important, I was on-and-off with an amazing girl who treated me very well. She is incredibly beautiful on the inside and the outside, and she gets along very well with my family. I think I'll always wonder what might have been with her if I didn't move away. Being out here makes me realize how special she is and how much I took her for granted.
I lived in a great 3-bedroom house with a kick-ass garage gym, giant barbeque, pool, and plasma tv's, all in pretty much the safest Scottsdale neighborhood which was a block away from a park which made it very convenient to engage in sled dragging, plyos, medball drills, sprints, and agility drills.
Some would say I had the perfect life, but I've never felt content with my knowledge. I wanted to learn how to research, how to use sports science technology, and how to conduct statistical analyses. I also wanted to get a good grip on prior research so I know what evidence is out there and what evidence is not out there. I have so many curiosities and I want to be able to test hypotheses throughout my career as a strength coach and personal trainer, so these skills will be invaluable as time passes.
Earlier this year, I left my good life and took off to New Zealand. I can't even begin to tell you how much I miss everyone, how lonely I get sometimes out here, and how much I took everything and everyone for granted. I'll be visiting home for a month from December to January and cannot wait to be around my family and friends once again. I even miss all my family and friend's dogs so much I can't wait to play with them.
The point is, I have sacrificed very heavily to come out to New Zealand and learn from one of the best schools imaginable – AUT University. I still sacrifice my social life and opt to work too hard. I told myself that I was going to work my ass off for three years and make the most of this experience, and it's paid off very nicely so far as I'm already much smarter than I was a year ago today.
Work Harder than Your Colleagues
I'm not the smartest guy out there, but I work harder than almost everyone. Here's what I've done in the past nine months:
Spent 3 weeks revamping the curriculum for a master's level strength training course with my professor John Cronin titled Enhancing Muscular Performance
Published 3 peer-reviewed journal articles with seven more in the process of being completed, the first of them which is already the most popular article in the journal's history
Trained 3 clients and 8 online distance clients each month
Deadlifted 540 lbs exactly 6 weeks after a biceps tendon repair surgery
Wrote 19 articles for various print magazines, online magazines, and blog interviews
Befriended an amazing team of strength coaches, sports science professors, researchers, PhD students, physios, gym owners, and lifters
Created an all-day glute workshop and presented it on 3 occasions to around 100 coaches, trainers, and physios
Wrote an entire eBook on female strength training with my friend Kellie Davis which just turned into a book deal with Victory Belt Publishing called Strong Curves
Landed a book deal on bodyweight training called Bodyweight Strength Training Anatomy with Human Kinetics and already finished 6 chapters
Posted over a hundred blogposts and newsletters, filmed dozens of Youtube videos, stayed active on Facebook and Twitter, and kept current in the online strength training industry
Read hundreds of journal articles, most involving strength, speed, power, biomechanics, the glutes and hamstrings, spinal biomechanics, or physiotherapy
Performed tons of work as a graduate assistance including teaching twelve different labs, grading papers, answering emails, filming instructional videos, and working with other staff and students on various projects
Spoke at 2 seminars on the core and the glutes and secured 4 more speaking gigs ranging from November to December in New Zealand and Australia
Finishing up my D9 (thesis proposal for my PhD due in the first year)
Pretty good for under a year's worth of work!
Screw Sleep
I think I average around 5-6 hours of sleep per night. Most of the other hours of the week are spent learning and writing. As you can see, I don't sleep much. You can sleep when you've made it. Until then, work.
Success usually comes to those who are too busy to be looking for it. – Henry David Thoreau
The 100-Hour Work Week
As I mentioned earlier, I don't think there are many people who work harder than me quite simply because it's not humanly possible. More often than not I probably work over 100 hours per week. I read Tim Ferriss' 4-Hour Workweek several years back and was quite intrigued, but that lifestyle wouldn't suit me. I'm too damn interested in science. I'm curious about everything and love to learn and investigate. Down the road I'd like this lifestyle but not until I'm satisfied with my knowledge and skill-set, my accomplishments, and my retirement.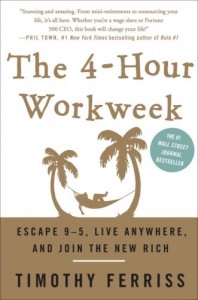 During the day I'm training clients, training myself, writing programs, writing articles, reading blogs, experimenting with force plates and other technology, and having discussions with other strength coaches, researchers, and professors. Come night-time I fight sleep like a child. Quite often I find myself nodding off and then I'll get up and walk around so I can stay awake to finish whatever I'm working on. I know it's not the healthiest lifestyle, but it's a byproduct of knowledge-seeking and zeal.
I don't have a wife or girlfriend, I don't have any kids, and most nights I choose to stay home and work. Most of my friends and colleagues have too many duties and responsibilities to dedicate as much time as I do to learning about strength training science. For example many have roles as husbands or fathers which require considerable time if you do it right. I would like to get married and have kids one day but right now I'm just taking advantage of the fact that I have plenty of time to study. One day I'll be too busy spending time with my wife and kids to be able to do so and I'd regret not working harder when I had the chance.
Get Your Learn On
Your learning should be based around your goals. If you're trying to be the best strength coach you can be, then you should spend more of your time coaching. If you're trying to be a popular writer then you need to read and learn more scientific information, and you need to write more. You should always train hard and experiment with different exercises and methods, and it's important to stay in shape so you can accurately evaluate these methods. I learn a ton through training myself, training others, having conversations with other coaches and researchers, attending workshops, reading blogs, and reading journal articles. All ways of learning are synergistic and serve as roots that blend together to form a tree.
If you spend all your time training others you'll probably be just another average trainer. None of the smart coaches today thought up all their ideas. They learned through reading and attending seminars and applying the knowledge they gained to their craft. If all I did was train people I wouldn't have learned a tenth of what I know today as I've been able to "steal" from all the best in the industry and incorporate the best of their methods into my arsenal.
Read Journal Articles and Connect With the Best
Once you've spent a considerable amount of time learning how to lift, how to coach, how to teach proper form, how to progress a client, and how to write effective programs, you'll benefit greatly from delving into the literature and aligning yourself with highly intelligent individuals.
I can't begin to tell you how much faster my rate of learning is now that I've made good connections. Once you possess a strong knowledge of the literature you can speak to other researchers with intelligence and they'll be more apt to want to befriend you. It takes time to become an expert with the literature as there is so much backtracking to be done and new research comes out every month which makes it hard to stay on top of things. But if you stick with it over time, you can do it.
I know of most research as soon as it comes out, and I know of plenty of articles before they come out as my research friends share inside information with each other prior to publication. In fact, over the next year some very exciting research will emerge in the sport science realm and it sucks being sworn to secrecy.
I'm pretty confident that I've read more literature on sprinting, power, speed, hypertrophy, biomechanics, and the spine than any online writer out there. Many coaches feel that you don't need to understand forces, torques, power measurements, or joint loading to excel, to which I'd agree. But most intelligent coaches have a natural intuition about strength and power science and can understand it quite easily when taught because they've been contemplating the concepts in their minds for years. All knowledge helps you become a better coach and a better writer as you start connecting meaningful dots over time.
Researchers aren't superior in terms of strength training knowledge or sport knowledge; they're superior in terms of their mindset and problem-solving abilities. They understand what is known, what's not known, how to go about trying to answer a question, how to formulate solid experiments, and the level of confidence they should possess regarding existing evidence pertaining to a certain topic.
Two years ago I had zero connections with researchers and now I'm happy to be in touch with many of the brightest researchers from various fields. I know who the top experts in the world are on nearly every topic and can reach out to them for ideas, information, and support.
There are around ten articles I could write right now regarding exciting research over the past few months alone, but I'm so busy learning that I don't have time to put it down on paper.
Down the hall from my office at my school (AUT University) I have John Cronin, Nigel Harris, Matt Brughelli, Patria Hume, and Will Hopkins at my disposal. John is one of the best methodological researchers in the field, Nigel and Matt know a ton about power and speed development, Patria is a world renowned Biomechanist, and Will is probably the most popular sports science statistician in the world. We just opened up a $2.6 million dollar lab that has all sorts of equipment, including force plates, isokinetic dynamometers, treadmills that measure forces, motion-capture systems, electromyography, linear positions transducers and accelerometers, timing gaits, and ultrasound. Lately I've been experimenting with the force plates and have some interesting findings to share with you down the road.

Befriend Caffeine
This probably isn't the best advice in the world, but it's worth mentioning that I drink around six Coke Zeros per day (I like Diet Cherry Dr. Pepper but that's not easy to get out here in NZ) and I sometimes throw an energy drink in the mix for good measure. Again, not the healthiest lifestyle, but it keeps the engine revved.
Make Quick Food
Tasty meals take a lot of time to prepare. Nine out of ten of my meals are either:
Three fish oil caps and a protein shake with 2 scoops of whey and a cup of milk
A bunch of nuts (cashews and macadamia nuts), fruit, yogurt, and cheese
Eggs or omelettes with veggies and meat
Sure it's boring, but less time spent cooking equals more available time for learning. Food preparation doesn't need to take up much of your time throughout the day.
Lift
You don't have to be the fittest guy in the world to be taken seriously, but every ounce of muscle and every less bit of fat improves your credibility. So does strength.
People like to take advice from someone who is strong and/or looks good. It's always been this way and it will always be this way.
Furthermore, as I mentioned previously, how in the hell can you test out new exercises or methods if you don't train? You should always experiment with things on yourself before prescribing them to clients.
Make Good Fitness Friends
Try to find like-minded people to hang out with. My three best buddies here in Auckland are Matt Brughelli, Cesar Meylan, and Travis McMaster. These guys are published and extremely interested in sports science. Matt is a professor while Cesar and Travis are strength & conditioning coaches. When I hang out with them we inevitably end up discussing strength training and biomechanics topics. In this manner I'm still "working" while hanging out since I'm acquiring new knowledge and viewpoints on various topics.
On a side note, here's an awesome article that Travis wrote on Variable Resistance Training (most experts incorrectly refer to bands and chains as "accommodating resistance" when it should be called "variable resistance"). Cesar is an excellent coach and is very detailed and thorough.
I've also become quite close with Brad Schoenfeld who is a researching machine and has trained thousands of individuals in his lifetime, including pro athletes and celebrities. And I talk to Ben Bruno quite often as we can talk about exericses for hours. Though there are plenty of highly intelligent internet experts, I tend to flock to regular strength coaches, lifters, and researchers, who don't have internet presences. At the risk of sounding rude, I enjoy their fresh views and untainted/unbiased mindsets, as many internet folks are overly cocky about what they think they know, despite the fact that they usually don't have the slightest clue about the literature or even the scientific method for that matter, and their egos are usually too big to be able to engage in productive discussions. Some of the talks I have with my friends are extremely high-caliber conversations, and though we often disagree, we always remain civil.
Train Others
I've seen some folks get lost in La La Land in terms of research. Training others keeps you grounded and prevents you from getting too esoteric. Many of my best ideas occur to me while I'm training others. More important, you should always train at least a few individuals throughout the week as doing so allows you to test out various methods and refine your protocols. Never step too far away from training other people no matter how busy you get as a writer, researcher, or owner of a strength-training facility.
Right now I'm training 3 different clients from various walks of life and though it doesn't involve a lot of time, it's critical in terms of my growth as a strength trainer.
Get Out of Your Comfort Zone
Knowledge is intimidating. It's not easy to learn new things. Often I look at something complicated and think, "You've got to be kidding me." For example, sprint kinematics and kinetics, spinal loading, and inverse dynamics are all highly complicated topics.
Your success is directly related to your willingness to get out of your comfort zone.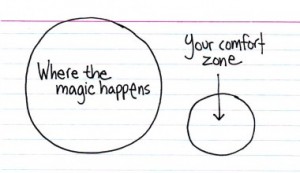 Don't be Afraid to Fail
Before stepping onto the strength & conditioning scene, I kept waiting for the right opportunity to emerge, wondering if I was indeed ready. Eventually I just decided to go for it. I submitted my first article, I started a blog, I got on Youtube, Facebook, and Twitter, and I put myself out there. When you feel confident in your knowledge and feel you're ready, go for it. You will fail. You will learn from your mistakes. You will grow. You will look back and laugh at how stupid you once were.
Stop Watching so Many Sports and Playing Video Games
Quit watching so much sports and playing so many video games. I rarely ever turn my television on. These are major distracters and killers of productivity.
Develop Thick Skin
The strength & conditioning industry has always been plagued with shoddy science. Many researchers and physical therapists are skinny geeks who wouldn't ever go near a power rack. Many strong lifters and athletes are meatheads who wouldn't ever go near a laboratory. It's quite rare to see someone who talks the talk and walks the walk and possesses both practical and scientific knowledge.
Strength coaches and especially physical therapists are very gullible and prone to falling for pseudoscience. If you challenge these folks you'll probably be met with severe hostility no matter how tactful and diplomatic your approach. I've been called more names than almost anyone in the field. It's not easy to wake up to find that some writer or coach has called you a bunch of names or dismissed your theory without experimenting with the methods or even considering the possibility that he's wrong.
People often ask me what the biggest problem in our industry is. I always tell them it's men. Males by nature are cocky, territorial, and sometimes downright absurd with their logic. If you rise up like I have and gain a scientific understanding then you'll be able to pick these folks apart, but unfortunately science often doesn't matter. Think of all the hokey beliefs that exist today worldwide. A majority of young coaches and lifters are highly susceptible to hype and prefer to follow pseudoscience or magic rather than logic and science. Many of the top fitness professionals are blinded by their own biases (we're all biased to some degree).
For this reason, if you question the status quo you will probably be hated by many. Stand tall and develop thick skin as you'll need it.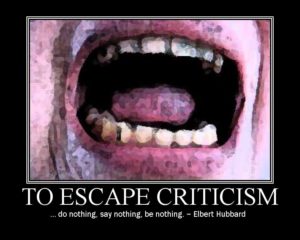 Attach Yourself to Science and Flow with Research
Trends come and go. Some methods are a flash in the pan while others stick. Be skeptical of new claims but remain open-minded. Flow with science, not with gurus. Learn both sides of a debate and make an educated decision based on logic. Learn how to go about answering questions and master the scientific method. If you consistently update your methods based on an evidence-based approach and you're always seeking knowledge and attempting to uncover the truth, then you'll always have fans who appreciate you.
If you were wrong about a hypothesis, come out and admit it. If you don't know the answer to something, just say, "I don't know." People will appreciate your honesty.
There are plenty of gurus in this profession who have made a ton of money promoting pseudoscience. You can choose to go down this path and can even make a lot of money. But these people are not taken seriously with the higher-ups. You don't see them being asked to speak at conferences, you don't see Olympic teams copying their methods, you will never see them publishing a journal article as the peer-reviewers would eat their claims for lunch, many of them are forced to formulate their own cults as they're not welcome in intellectual circles, they typically can't get along with other fitness professionals, and they have to live stressed-out lives since they constantly have to defend their bogus claims.
I've also noticed that many gurus turn weird over time – really weird. In order to not let this happen to you, stay grounded by having plenty of colleagues in various circles – lifters, coaches, physical therapists, and researchers.
If you flow with science then you'll be taken seriously, you'll be welcome in legitimate circles, and you'll stand the test of time.
Conclusion
Obviously most people's lives won't allow them to go to such great lengths as I have to learn sports science and biomechanics. The point is to strive for mastery and never quit learning. I couldn't imagine a realistic situation that would be better for maximizing my knowledge and learning, but it's taken me years to get here. If you read my glute eBook then you know that my situation has done a 180° as a few years back I didn't have any colleagues in the profession. Literally I had none. Now I have way too many! I can't log onto Skype without several fitness colleagues trying to track me down. I've worked quite hard to develop systems to maximize my learning, and if you're similar minded and desire increased knowledge in strength & conditioning then you're probably pretty envious of my disposition as I'm currently living in a sports scientist's paradise.
Just know that you lie in the bed you make for yourself. If you want it bad enough you will get there.