Hey Readers,
I wanted to alert you all to something I've been working on. I receive tons of emails about glute training, and I realize that many people (especially women) want to know more about the glutes and specifically what type of workout they should do if they want to improve the appearance of their backsides.
I teamed up with a former client of mine named Kellie Davis, who is a figure competitor and fellow blogger, to write a detailed glute training program. We created a separate website to handle this product, and you can click here to receive a free 24-full color report that contains 52 Glute Myths. Since Kellie's the better writer out of us, I'm just going to repost what she wrote on her blog:
Bret Contreras and I teamed up a few weeks back to put together this amazing FREE report that unveils the secrets behind building a better backside. And it's finally finished!

This 24-page full color report offers an inside look at some of The Glute Guys best kept secrets, previously only revealed to his clients.

Not only are we offering you this free report today, but this is a lead-in for our full glute-specific training program that is due to release next month.

That's right… The Glute Guy is finally releasing a glute training program to the public, and you get first dibs by instantly accessing our free report.

All you need to do is go to this link and register your name and a valid email address. You will instantly receive our free report, "Great Glutes Revealed."

You will also receive a timely newsletter relating to all things wonderful in the world of fitness and nutrition.

Along with these great gifts, we promise you our glute-training program at pre-launch pricing as soon as it's ready.

Who can argue with that?

No one can attest to Bret's methods better than I can, and I have the backside to prove it.

What are you waiting for? Get those curves you've always craved with these inside tips.

Go to:

Love,

Kellie
So head on over to GetGlutes.com and sign up to receive notification about the program and receive a free report with 52 glute myths. I will leave you with a picture of my former client Lizzy's booty, someone who worked very hard for this masterpiece!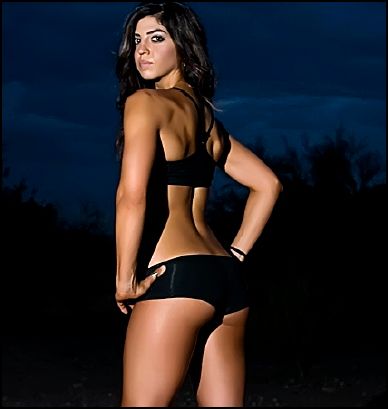 Take care,
Bret