I've been experimenting with sandbag training over the past couple of months and I believe that they are highly underrated. I was amazed at how heavy some of the sandbags felt; a dumbbell, kettlebell, or barbell of equal weight feels much lighter. I believe that sandbags definitely have a place in the training of athletes and strong lifters, but perhaps the population who I feel could benefit the most from sandbag training is women.
Most women don't want a heavy barbell or dumbbells sitting in the corner of one of the rooms in their homes. But a sandbag doesn't look so tacky (at least not the ones that my friend Josh Henkin sent to me) and can conveniently be placed in a closet when not being used. I believe that women should be training their glutes very frequently, and if more women had some form of resistance in their homes then they'd be more apt to train their glutes on non-gym days. Sandbags are a perfect tool for training at home. You can toss them into the back of a car when taking road trips as well so you have something to lift if your hotel doesn't have a gym. Furthermore, the sandbags Josh sent me were far more effective than what I'd used many years ago when I first gave sandbag training a try. My buddy had a duffel bag filled with sand which was leaking out of the corner and one of the handles had ripped off. Needless to say I didn't fully appreciate sandbag training way back then. For this reason I think it's well worth it to purchase quality sandbags; especially if you're a personal trainer.
The 15 Best Sandbag Glute Exercises
Check out all of the different glute exercises that Josh and I came up with in the video below. Many thanks to Sarah Gwynn for demonstrating the exercises for us.
Here is a list of the 15 exercises:
1. Glute bridge
2. Hip thrust
3. Zercher squat
4. Zercher step up
5. Zercher walking lunge
6. Zercher Bulgarian split squat
7. Zercher single leg box squat
8. Reaching single leg RDL
9. Split clean
10. Cyclone
11. Zercher good morning
12. Rotational lunge
13. RKC plank
14. Single leg hip thrust
15. Staggered stance shoulder squat
Some of these are more comfortable than others. For example, the sandbags get in the way of the hips a little bit for hip thrusts, but it's certainly manageable. With the split cleans you'll quickly get coordinated at flipping the sandbags into the catch position.
My Two Favorites: Rotational Lunge and Staggered Stance Shoulder Squat
My two favorites are the rotational lunge and the staggered stance shoulder squat. The rotational lunge adds an external rotation component to the lunging movement so the glutes have to do more than just hip extension. You can get into a rhythm sort of like what happens with the kettlebell swing; you explode up then the load floats upward and you relax for a second and wait for it to swing backward so you can absorb the eccentric component then rapidly reverse the movement and alternate legs. I believe that the rotational lunge is a cornerstone movement for sandbags just as the swing is for the kettlebell. Here is Josh explaining the rotational lunge:
However, I think I like the staggered stance shoulder squat even more than the rotational lunge. This is such a cool exercise. Many individuals who are proficient in bilateral lower body exercises are still not ready for true single leg squatting. They need a transition exercise to help pave the way for performing pistol squats, and the staggered stance shoulder squat is the perfect exercise for the job. Sure lunges, step ups, and Bulgarian split squats are good, but the staggered stance shoulder squat is even more specific to the pistol as the kinematics are a bit more similar in my opinion. You line the toe of the rear leg up with the heel of the front leg. You put most of your weight on the front leg while shouldering the load on the opposite shoulder. The exercise feels very smooth and the offset loading helps with balance and coordination. As time ensues you'll get better at using primarily the front leg for propulsion without relying much on the rear leg, and eventually you'll be ready to tackle pistol squats.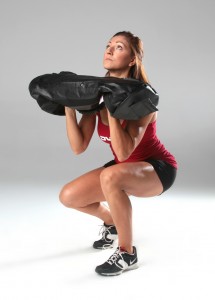 Where to Get Good Sandbags
You'll notice that I have a link on the side of my blog to Ultimate Sandbags, so you can click on the link to visit the site. These are high quality and the shipping is very reasonable. I especially like all of the handles as they allow for increased versatility. You'll need to fill them up with sand once you receive them.
Hope you enjoyed the post and videos! Happy holidays, BC