Hi Bret,

I wanted to hear your take on something as I know that you are the expert in this area. The lead trainer at my gym tells me that I shouldn't tell my clients to squeeze their glutes during barbell glute bridges or barbell hip thrusts as it will lead to anterior hip pain. He learned this from Evan Osar.

Personally, I haven't found it to be problematic, so my instinct is to keep doing what I'm doing. Should I be concerned? By the way I'm a big fan of your blog! I appreciate your time.

Sincerely,

Andrew
Hi Andrew,
You were very wise to come here for advice.
First off, I want to say that based on what I've seen from Evan, he's a good guy. I don't think he's trying to be a guru or anything like that, and I'm sure he believes that the methods he recommends is "best-practice." However, I strongly disagree with him in this case.
Let me inform you about my experiences. For six straight years, I've cued every single client I've trained to squeeze their glutes during bridging variations. Remember that I used to have my own studio, so this equates to a few hundred clients at the minimum.
I've found this practice to be incredibly beneficial, and failure to do so will NOT provide optimal results.
I would like my readers to download and read the following articles by Lewis & Sahrmann:
Effect of position and alteration in synergist muscle force contribution on hip forces when performing hip strengthening exercises

Anterior hip joint force increases with hip extension, decreased gluteal force, or decreased iliopsoas force
***These are all free downloads so save the pdf's – these papers are incredibly important***
From these papers, we can deduce that:
The hamstrings' pull on the femur might cause the femur to jam forward in the acetabulum, leading to damage/pain

The gluteus maximus' pull on the femur might pull back on the femur in the acetabulum, preventing it from migrating forward and creating damage (referred to as "centration" in certain cirles)

Cueing the glutes during prone hip extension doubles glute recruitment while at the same time decreasing hamstring recruitment

Cueing the glutes during prone hip extension speeds up glute onset and delays hamstring onset
Ideally these studies will be duplicated down the road and more research along these lines will emerge so we can be more confident, but in the meantime it's highly plausible.
But of much greater importance is the fact that no client I've ever trained has ever developed anterior hip pain. So in this case, the theories line up with real-world results. I'm absolutely certain that if I didn't cue people to squeeze their glutes, not only would they not achieve as good of results, but some would end up experiencing anterior hip pain because they are not using their glutes.
To reiterate, failing to use your glutes will lead to anterior hip pain. Squeezing your glutes will prevent it.
Furthermore, not squeezing the glutes at the top of a hip thrust will lead to anterior pelvic tilt and lumbar hyperextension, which can lead to back pain/injury. As a matter of fact, when a lifter feels hip thrusts in his low back too much, you can have him posteriorly tilt the pelvis when he hip thrusts and this almost always fixes the problem because it prevents the back of the spine from jamming together and creating damage. What posteriorly tilts the pelvis? The glutes and low abs. In fact, one of my clients initially experienced pain during the hip thrust (she's extension intolerant), and having her hip thrust this way cleaned everything up and she's never experienced low back pain during hip thrusts ever since:
So having your clients squeeze their glutes up top will not only protect the hips; it will also protect the spine. This becomes increasingly important as a lifter starts using heavier loads. And to maximize gluteal development, it's imperative that a lifter adheres to progressive overload and uses heavier weights over time during hip thrusts. A lifter might be fine not using their glutes with just bodyweight, but it's a different story when that lifter works his way up to 405 pounds.
I'm aware that Evan is a chiropractor, so I'm pretty sure he trains people for purposes of rehabilitation, not maximal strength and hypertrophy, and I've never seen any evidence that he's posted of clients showing impressive gains in strength or muscular development, which is always important to me.
Moving on, a variety of combinations of synergistic muscle forces can create requisite joint torque. In other words, if a task needs to be completed, you can have a lot of contribution from muscle A and not a lot from muscle B, or a lot of contribution from muscle B and not a lot from muscle A, or an equal contribution from muscles A and B.
Bodybuilders have known this for ages, hence the focus on the "mind-muscle connection," and the literature supports it. During hip extension, would you rather have your clients relying solely on the hammies? Nine times out of ten I'd rather have more glute and less hammy than more hammy and less glute, at least for hip extension exercises in resistance training.
So let's recap:
1) Glutes pull back on the femurs, keeping them centrated in the acetabulum at end-range hip extension
2) My clients have experienced no hip pain and they have some of the strongest glutes I've ever witnessed, yet they squeeze their glutes at the top of their hip thrusts
3) There is no research that I'm aware of supporting Evan's theory (that squeezing the glutes causes anterior hip pain)
Had Evan contacted me about his theory before publishing it, I'd have strongly urged him to experiment with heavy bridging both on himself and with his clients for several months before making such recommendations. This way, he'd have learned "what does happen," so he wouldn't have to speculate about "what might happen" based on looking at anatomy and trying to draw conclusions regarding functionality. And by heavy, I'm talking about males hip thrusting over 365 pounds and females hip thrusting over 225 pounds. This is not unrealistic if you train healthy lifters for around 3-6 months.
Furthermore, if someone has anterior hip pain, lack of glute activation is a likely culprit. Think about it. Americans take over 5,000 steps every day. So people are extending their hips literally thousands of times every day via walking, standing from a chair, and climbing stairs, not to mention during cardio and recreation.
And yet all you have to do is visit a busy public place such as an airport or mall to witness the horrific state of affairs we're in in terms of glute development. Athletic glutes are the rare exception, not the norm. If simple "hip extension" was the solution, nobody would experience glute atrophy or inhibition and everyone would possess impressive glutes since everyone performs tons of hip extension repetitions on a daily basis. Obviously there's more to it, and the glutes require more activation, good cueing, and progressive overload via faster speeds and heavier loads over time for optimal functioning.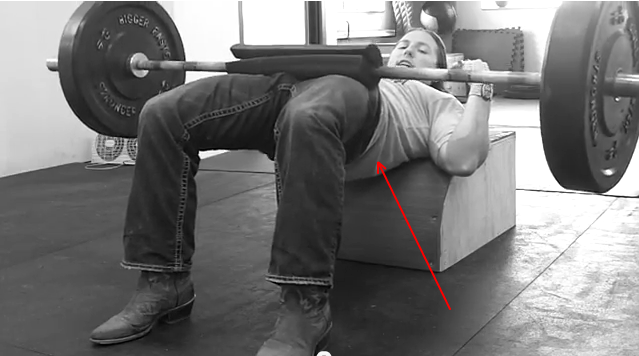 It's worth mentioning that many other successful coaches and clinicians have had success cueing the glutes during hip thrusts – Stu McGill, Eric Cressey, Tony Gentilcore, and Ben Bruno to name a few. Pavel Tsatsouline cues to squeeze the glutes at the end range of kettlebell swings. If Evan is suggesting that we're all doing it wrong, then I'd hope he has some evidence to back it up.
Per chance this is a matter of semantics. Maybe Evan simply believes that lifters shouldn't rise into hip hyperextension and should stop before end-range is reached. If this is the case, I'd disagree, but  maybe Evan can clear things up by commenting here on the blog.
If Evan is basing his knowledge off of his clients who are dysfunctional, I'd like to mention the following. We DO NOT base the training of healthy populations on the training of clients in pain. If we did this, nobody would squat or deadlift as back pain clients find them problematic, and nobody would bench or military press as shoulder pain clients would find them problematic. Healthy populations can and should do these lifts consistently as long as they use good form. They form the cornerstone of a good S&C program.
There are various physios who demonstrate a proclivity toward overstepping their bounds by making recommendations to the S&C world having never stepped a foot into our world (healthy athletes lifting heavy loads in the weightroom). So although strength coaches should indeed listen to physios and pay attention to their expertise, at the end of the day we need to stick together and share anecdotes. If all we went by was typical physio recommendations, we'd be using therabands for resistance and would cringe at the site of a loaded barbell.
Final decision: Squeeze those booties like there's no tomorrow!