Many lifters are interested in progressively training the core as they advance in strength. The typical workout consisting of sit-ups, crunches, and side bends becomes boring, and more advanced variations are desirable. Below are some of my favorite ab/core exercises.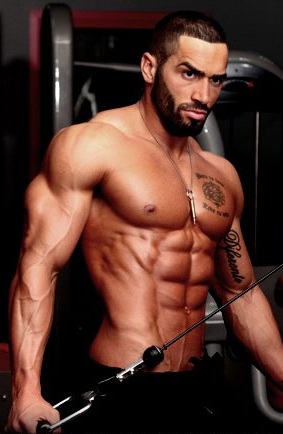 Human Loaded Front Plank
Last year I conducted an EMG experiment with an extensive variety of ab exercises and found that the ultimate ab and oblique exercise was the weighted front plank – it outperformed every single core exercise I could think of (total of around 50 exercises). If you've been reading my blog for a while, you'll know that I'm not a fan of high-rep training. I have nothing against high-reppers, I just hate feeling the burn. To me, heavy singles are the cat's pajamas. Much of my innovative approach to training stems from the fact that I can't stand doing sets of 10 reps or more or performing sustained isometrics for longer than 20 seconds. Because of this hatred, I often create ways to make exercises more challenging. I did this with the hip thrust, which is just a glute bridge with extra weight and extra range of motion, and I did this with the plank by adding weight in the form of another human being directly over the low back.
This should go without saying, but it is critical that one uses proper form and begins at the simplest variation before attempting this exercise. Proper form involves controlling the lumbar spine and preventing the low back from being pulled downward into extension (arching). Start off with a basic front plank, and once you master it begin adding weight gradually in the form of plates. You'll need a partner to put plates onto your back. When a couple of 45 lb plates is no longer challenging for you, it's time to move up to a human being.
In the video above I perform a 23-second isohold with my 220 lb training-partner named Rob on my back. I could probably work my way up to a minute within a month or so if I really wanted to but I guess it's just not that important to me at this time as I feel that my core is "strong enough."
Band Anti-Rotary Hold
Physical therapist John Pallof created the "Pallof press" many years ago. I love the Pallof press, but I like performing anti-rotation core stability exercises for time as well. We can hold a front plank (anti-extension) or side plank (anti-lateral flexion) for extended time, so why not do the same isometric-style with anti-rotation training?
I prefer the band or cable anti-rotary hold to the Pallof press – I believe it works the muscles much harder since they can't rest. Start off with the Pallof press, but when you master it move onto the band anti-rotary hold and don't be afraid to move out really far when using bands. If you're a strong guy like me you can move way out and challenge your core very hard with this movement. It may not appear like it, but this exercise is absolutely brutal! It makes people want to puke it's so hard.
Negative Standing Ab-Wheel Rollout
Start off with the basic front plank. When that gets easy, move onto the stability ball rollout or TRX fallout. As soon as that gets easy, move onto the ab wheel rollout from the knees. And when that gets easy, it's time to give the negative standing ab-wheel rollout a try. I'm not strong enough to perform a concentric repetition from the standing position but I can get an excellent eccentric repetition in without allowing my lumbar spine to enter into extension. Height plays a large role in determining your strength on this exercise. Shorter guys will have a much easier time than taller guys in eventually performing a standing ab wheel rollout (or even a weighted vest standing ab wheel rollout).
Barbell Suitcase Isometric Hold
The barbell suitcase hold is the ultimate anti-lateral flexion exercise. It's also a great grip exercise once you get really strong. If you're not very strong, you can just use a dumbbell. But once you outgrow the dumbbells, you must move on to a barbell. I've used 185 lbs for this movement in the past.
Weighted Dead Bugs
Dead bugs are an awesome exercise, just like planks side planks, glute bridges, and bird dogs. However, all of these exercises have one inherent flaw; they're too easy for advanced individuals. The remedy for this is simple. Once you master bodyweight add resistance in the form of ankle weights and dumbbells. In this video I'm using 10-lb ankle weights and 10-lb dumbbells. Don't allow the lumbar spine to extend or flex.
Weighted Bird Dogs
Bird dogs are not an abdominal exercise – I threw them into the mix here for balance. They're like dead bugs for the posterior chain, and it's always good to have balanced core development. Perform them in the quadruped position and make sure to control the amount of lumbar extension. Some is acceptable, but don't go overboard. Squeeze the glutes and don't let the pelvis move excessively into anterior tilt. Once you master bodyweight add resistance in the form of ankle weights and dumbbells. In this video I'm using 10-lb ankle weights and 10-lb dumbbells.
Cable Chops and Lifts
Chops and lifts are kickass exercises that integrate a ton of muscle and help the entire body to become more coordinated. They work large, global muscles and really challenge the glute medius, upper glute maximus, adductors, multifidi, external obliques, and internal obliques.
Here is a quote from Gray Cook, the physical therapist/strength coach who really brought these movements to the forefront of the strength training industry:
Chopping and lifting can be used as corrective exercise, core conditioning, or generalized strengthening. Many use the chop and lift as a complete upper body program while others use it to complement the big pushing and pulling lifts. The moves are often hard to classify because they incorporate pushing and pulling. There is much more going on in a chop or lift than pushing and pulling though. Chopping and lifting is based on PNF patterns that are spiral and diagonal. When two hands are involved together in the same direction crossing the mid-line of the body in a downward or upward movement, it is called a chop or lift. -Gray Cook
There are many different ways to perform chops and lifts. Technically chops and lifts only include upward and downward diagonal patterns, but I feel like the pure rotational variations in the transverse plane have tremendous merit even though they aren't multi-planar or true "chops and lifts." Similarly, you're supposed to chop to the bottom knee or rear leg and lift to the upward knee or front leg (if using a half-kneeling or staggered inline stance), but rules were always made to be broken. Here are some ways to tinker with the exercises:
Stance
1. Tall Kneeling (On Both Knees)
2. Half Kneeling Front Leg Inside (On One Knee)
3. Half Kneeling Front Leg Outside (On One Knee)
4. Parallel Stance (Both Feet Parallel With Another in an Athletic Stance)
5. Inline Stance Front Leg Inside (One Leg in Front of the Other)
6. Inline Stance Front Leg Outside (One Leg in Front of the Other)
7. Single Leg (I Don't Like this Option)
Movement Angle
1. High to Low (Chop)
2. Low to High (Lift)
3. Straight Across (Rotation Press)
Stance Orientation
1. Facing Perpendicular to the Cable
2. Facing at a 45 Degree Angle Away from the Cable
3. Facing the Cable Column
4. Facing Away from the Cable Column
Handles/Implements
1. Long Rope Handle
3. Cook Bar
4. JC Bands
5. Long Chain
6. Medicine Balls (I like the dynamic method where you throw the ball, not where you hold onto it throughout the movements)
Rep Styles
1. Sequential Pull then Press Straight Out Without Crossing Midline of Body
2. Sequential Pull then Press While Crossing Midline of Body
3. Flowing Movement (My Favorite)
As you may know I used to teach high school mathematics. The way you figure out the number of total combinations possible is to multiply the number of combinations in each category together. So 7 x 3 x 4 x 6 x 3 = 1,512 different combinations of chop & lift movements! Here is a video detailing chops, lifts, and Pallof presses, but if you're in a hurry just watch the 4 videos below it that showcase just a few reps of my favorite variations.
Half Kneeling Cable Chop
Half Kneeling Cable Lift
Half Kneeling Cable Anti-Rotation Press
Parallel Stance Cable Rotation
If you like this article, then you'll like a very similar one here:
There you have it – 11 challenging core exercises for total badasses. I hope you enjoyed the article!