Okay fitness peeps, here's the deal.
My buddy Chris Beardsley and I have been working very hard on a new series of products. We have several eBooks in various forms of completion, and by the end of 2013 we intend on having the following products available for you:
1. Background (more on this below)
2. Hip Extension Mechanics (this one is going to be incredible!)
3. Acceleration and Maximum Speed Sprint Running
4. Jumping, Agility, Change of Direction, and Rotary Actions
5. Power
6. Strength
7. Hypertrophy
8. Transfer of Training
We also might do more special editions such as spinal loading, periodization/overtraining, core, squat/deadlift, and flexibility, but we're not certain yet.
These will go a long way in helping to improve your understanding of Sports Science and Strength & Conditioning.
I'm so proud and excited about them as I feel that they're much needed in the industry and will benefit many people.
The Background Product
Today we are launching the very first product in the series. This edition is of utmost importance as it lays the foundation for future editions. We weren't originally going to include this edition in the series, but we realize that there are many topics in which lifters, athletes, personal trainers, strength coaches, and physical therapists aren't quite "up to speed," so the Background product is necessary.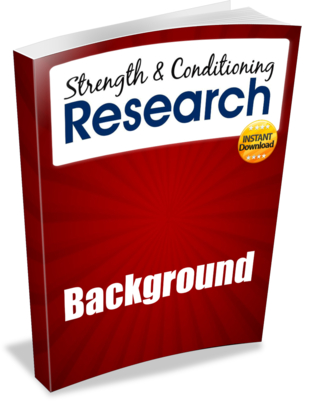 Click

HERE

to purchase Background.
What You Get
Background is a collection of over fifty reviews of the most comprehensive review articles and meta-analyses of the fundamental concepts underlying exercise science. It covers all of the important concepts in muscular, neuromuscular, bone, tendon and cardiovascular physiology as well as their adaptations training.  It has also sections on energy systems, fatigue and biomechanics.
Number of Pages
105. This is filled with information and science but you can easily get through it in a week.
The Cost
Only $19.
My Advice
Mark my words, if you buy each product in the series one-by-one, at the end of it you will be very glad you did. We strategically planned the order of products to maximize your understanding and knowledge. So buy the Background product today and eagerly wait for the Hip Extension product which should be completed in a couple of months.
Click

HERE

to read more about it