Hi fitness friends! 2015 was certainly an interesting and productive year for me. I hope that you all also had a fantastic and fruitful year.
Check out my 2015 highlights and other items of interest since my last Random Thoughts post:
2015 Highlights
Obtained PhD in Sports Science from AUT University

Co-author on 12 published peer-reviewed journal articles (35 total to date)

Presented in USA, UK, Norway, and Spain

Arguably got into the best shape of my life
Set numerous gym PRs at 38-39 years of age (squat 430, deadlift 405 x 20 reps, deadlift 500 x 10 reps, 16 bodyweight chin ups, bench press 335 lbs, hip thrust 725 lbs).
Of Random Interest:
1. 100 kg (220 lb) Barbell Hip Thrust Challenge
Fellow strong hip thrusting peeps, check out Derrick Blanton nailing 40 reps with 100 kgs (220 lbs). It took him 4 attempts over a 3 week period to accomplish this feat.  Now, he does use a tad shorter bench at 14.5″ – I use a 16″ bench for comparison. That can make hip thrusting slightly easier but he finds this to be a more comfortable height. This a brutal feat, nonetheless. The most reps I've ever hit with 100 kgs was 25, and I couldn't imagine getting 15 more reps. Congrats, Derek! Think you can beat Derrick's 40 reps or my 25 reps? Give it a try!
https://www.youtube.com/watch?v=YebDoto02eI
2. Attentional Focus for Maximizing Muscle Development: The Mind-Muscle Connection
Check out this paper I co-authored with my buddy, Brad Schoenfield, which has just recently been published ahead of print. This is a fascinating topic and the article can be downloaded for free at the moment. Click on the PDF icon under Article Tools at the link to download HERE.
3. Becoming a Better Human Seminar: Last Week for Early-Bird Discount
I'm presenting next month at the Becoming a Better Human Seminar in Regina, Saskatchewan. I was on the phone yesterday with my friend and co-presenter Alan Aragon, and I don't think we quite realized how cold Saskatchewan is this time of year. Alan lives in LA and I live in Phoenix and methinks we might be some cold weather sissies. The only cold weather I hope to deal with will be in running from the hotel to the car.  Also there will be my buddy Eric Helms, a super-smart bro who is currently getting his PhD from AUT University in New Zealand (same school I attended), and Mike Tuchscherer, an innovative and freakishly strong powerlifter. Canadian friends who live close to Regina – you better be there! We need your warm bodies to huddle up with and prevent hypothermia. This is the last week to receive the early-bird discount (closes on Jan 17th). Learn more about the event HERE.
4. Reddit AMA
I recently participated in another AMA on Reddit to chat about Strong Curves and answer a few questions. This was a fun experience, as always. You can follow along with the conversation HERE.
5. Olympic Weightlifting Research by Chris Beardsley
Olympic Weightlifting fans, I have a treat for you. Chris Beardsley of Strength and Conditioning Research sifted through the research on Olympic lifting and summarized almost 300 studies. You can check out the summary for free HERE.
6. Bench Press Research by Adam Bentley
Love to read and think about the bench press? You will definitely want to take a look at Adam Bentley's review article summarizing the research on this popular exercise HERE.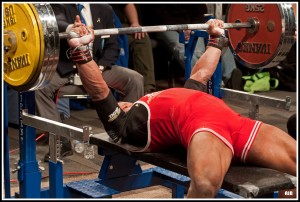 7. Finally Nailed a 315 lb Full Squat
I've always found squats to be incredibly challenging, so I'm very proud of my recent 315-lb for 10-rep full squat PR. At 6'4″, I have a large ROM with these. I actually measured it and it's 29 3/8″ (74.6 cm). And by the way, I'm wearing blue sweatpants (courtesy of squat sponge) not jeans LOL, many of my followers thought I had jeans on. Maybe if I ever get to 365 lbs for 10 reps, I'll wear blue jeans and a blue jean jacket, but I'd have to be way stronger and way cooler to pull off that feat. 
8. Gym Wildlife
Nothing like a good laugh at the expense of us gym-rats to brighten your day. Behold, and observe the gym and its inhabitants as you've never quite seen them before.
9. PTQ Volume 2 Issue 4
I serve as Editor-in-Chief of Personal Training Quarterly and our latest publication is now available. If you are an NSCA member, click on the link to learn more about strength training for endurance athletes to training for sedentary office workers, as well as insights for improving communication as a personal trainer.  Read more HERE.
10. Strong by Bret: Coming Soon
Soon you'll be able to follow the same program I use with my Glute Squad clients. I'll be releasing Strong by Bret in the near future, so stay tuned for that.
Well, friends, I think that wraps up my 2015 highlight reel and recent updates. I hope that you enjoyed the random information I've shared as much as I have. I look forward to what's in store for 2016 and wish you all a healthy and happy year!
-Bret