From Wannabe to the Platform: My First Powerlifting Competition
By Kellie Davis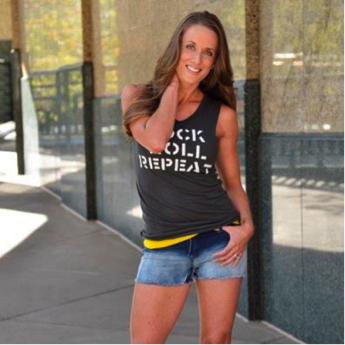 "I think that's it. I'm done," I said to my then nutrition coach Alan Aragon after placing 4th in a natural figure pro-qualifier back in 2011. It was my third year competing and I had reached a burnout point. I walked my orange-stained plastic heels over to the trash, tossed them in, and listed my handcrafted bikini online for resale.
I was completely satisfied with my decision, but restless with anticipation for my next event. As a competition-driven person, I started chasing other goals. I dabbled in the idea of sprinting, only realizing that my schedule didn't allow for that type of intense training. I found myself constantly reaching for something, but nothing would ever stick. I turned that drive toward my career and school instead.
After much evaluation—three years worth— I concluded that what I loved most about figure wasn't getting on stage, but pushing myself in the gym. I naturally gravitated toward powerlifting and in January this year I committed to the Southern Powerlifting meet held at Super Training in June. Super Training meets always fill up quickly, so I had to register right away. Once I sent in that form, there was no turning back.
Training Days
I maintained my strength and physique during the time between figure and signing up for my meet, but over the course of those three years I hadn't really pushed myself hard in the gym. Every now and again I would go for a deadlift PR, but never set squat or bench goals. I was up for the challenged and at the time Bret was finishing up his 2×4 template, so I decided to give it a go.
I worked with 2×4 for two months until my training came to an abrupt halt due to low back spasms and SI joint issues. One day during my deadlift session, my back froze and I couldn't walk from my garage to the house. That afternoon I went to the chiropractor and physiotherapist to work on my alignment issues.
I spent a few sessions in therapy and decided I needed more support with my training. I hired Jordan Syatt to work with me on programming and signed up for a few sessions with Cara Westin of FN Strong in Sacramento to work on form. Jordan evaluated my form and my physique to see how to build on my strengths and bring up my weaknesses. Cara spent two hours alone working on my deadlift, and another two hours on my bench and squat. Everything started to click and my lifts were stronger than ever.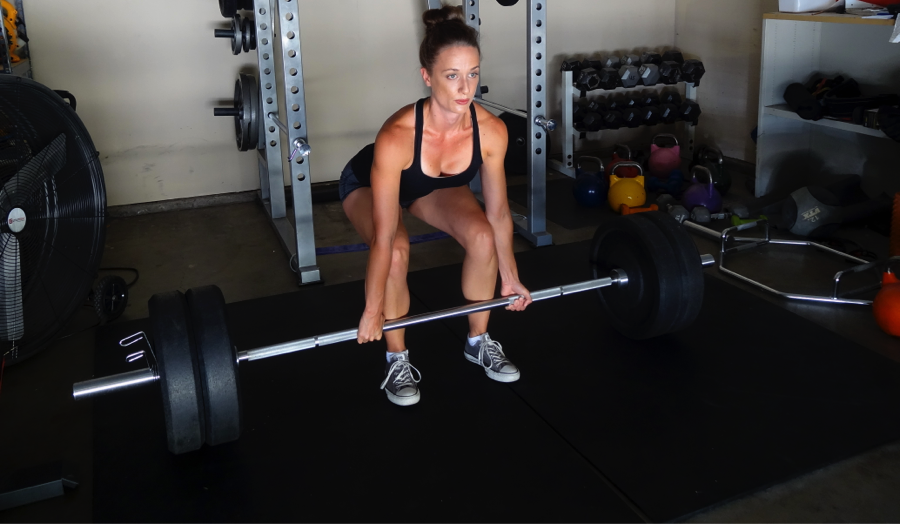 Syatt put me on a hybrid Conjugated program, training 4 days per week with lower and upper max effort days plus a lower and upper dynamic effort days. He was able to design my program based on the equipment I have at home. I don't have many of the accessories used in powerlifting like a Glute/ham developer, reverse hyper, safety bar, cable machines, chains, and bands, etc. I basically used my power rack with barbell and weights, benches, bands, and dumbbells.
When he sent my program the first time he warned me that it was like nothing I'd ever done. The workouts were intense and left my legs so pumped that I didn't think I would be able to sit for a few days. He hammered the hell out of my quads, which had always been my nemesis when training for figure shows, as I could never get them to grow the same way my glutes and hams did. Jordan was really in-tune with this weakness and did everything in his power to help me grow some dang quads.
As the weeks progressed I found myself in the gym for 1.5-2 hours at a time. It got a bit stressful trying to juggle up to 8 hours of training plus running a business, grad school, and a busy family. Sometimes I had to cut a session short to make it to school on time or to get my son to his baseball game, but I made it work.
Then Comes the Weight Gain
A week into this program I was on the phone with Bret to discuss business and we talked about my training. I asked him if I should feed into my appetite because I felt ravenous and wasn't gaining weight. He said, "Now is the time to do this and if you can do this without gaining I will be jealous."
I started eating like a boss and the scale began steadily going up a pound or two each week. This was a huge breakthrough for me. Huge. Like many other women, the scale was an important factor in my training. When I finished my first figure show in 2009 I weighed 117 pounds. That was what I weighed in 8th grade. I struggled with putting weight back on because I liked how I looked. Slowly over the course of two years I allowed myself to gain ten pounds. From there my weight fluctuated up and down, but I never weighed more than 137 pounds. If I got up that high, I would eat less to drop the weight. I know it was just an arbitrary number on the scale, but for some reason I grabbed hold of it and wouldn't let go.
For the first time in years I let this go. I was so fixated on competing in the 132-pound class that I was holding my training back. So I started to eat and not care about what class I fit into. A week before my competition I weighed 141, a number I hadn't seen since my fat days. I weighed-in at 139.5 and was nearly as lean as I was for figure. I still fit into a size 4 despite the amount of muscle I put on.
Stronger Than Ever
At seven weeks out, I hit a squat PR of 195 lbs—something I never thought I'd achieve. I hit a 100 lb bench for 3 reps and my deadlift form improved immensely. A little over a week before my meet I got on the phone with Jordan to talk about my openers. He told me the goal of the meet was to go 9/9 and to not worry about setting any records. Cara mentioned the same thing during our last training session and I was completely okay with this. I was already accomplishing something I never thought I would, so hitting my lifts was just icing on the proverbial cake.
Weigh-in day arrived and I showed up to Super Training to set my rack height and get on the scale. I walked through the garage door into the land of giants. The best of the best registered for this meet: Chad Wesley Smith, Brandon Lilly, Lillibridge Jr and Sr, Derek Kendall. They were all just hanging out shooting the shit while I fumbled around the monolift. I looked around the room wondering what the hell I got myself into and questioned if I was really prepared for this (All the guys were courteous and friendly, I just felt out of place).
The Meet
I planned to meet GetGlutes member Cari Evelyn and her boyfriend Paul Tongiani, who flew out from the east coast to compete. We warmed up together and it was time to hit the platform at 10 AM sharp. The meet was running on schedule even though they had a surplus of 15 or more competitors over the registration limit. It was a huge event and everything ran like clockwork. I really have to hand it to the Super Training team for putting together an awesome meet.
Due to a knee sprain last year, I opted to have my knees wrapped for my squat. I didn't train with them enough to really feel stronger with wraps, but they helped keep my knee from turning in when I pushed out of the hole. Cara was kind enough to wrap them for me and she also called my depth on my squat. One of my biggest fears is that I wouldn't know how deep I was when wearing the wraps. That is something that takes getting used to, so having her yelling from the sidelines was a gift.
I nailed my first attempt of 175 easily. My second attempt of 192 wasn't as pretty because my stance was too narrow. I was amazed to see what a small nuance in form could do for my lift. My third attempt was a total bust. The coordinators mixed up my attempt with Cari's and I ended up jumping from a 192 to a 215 squat, so I missed. I planned on attempting 203, which I felt I could have hit. They gave me the option for a fourth attempt, but I declined.
I wasn't really paying attention to the time, but I would guess that I have over two hours between my squat and bench. Guys were setting records left and right on the squat and it was no easy task to get them set up. It was great to watch, and a little scary at times. I found myself looking away for some of the lifts.
My bench went well for my first and second attempt (95 and 105). I gained a bit too much confidence when 105-pounds was so easy and I jumped to 115, which I missed. In hindsight I should have gone for 110. The transition between bench and deadlift was much quicker and I was really excited to get back on the floor. I remembered Jordan telling me on the phone that I was going to walk away feeling like I left a ton of weight on the floor. I was going to hear from other competitors that I could have lifted more.
I walked up to my deadlift opener knowing that. I nailed all three attempts like it was speed work (225, 242, 259). Looking at my videos, I could have easily pulled 285 and maybe even 300 that day. I was totally fine with what I had accomplished because I walked away with meet PRs to beat the next time.
There were 10 competitors in my weight class (light weight was <165), and I was the only first-timer. My meet total was 557 lbs and I landed a cushy 8th place spot. With each of my lifts I realized where I went wrong (squat was out of my hands) and how I can improve going forward.
What I Learned
For one thing, I learned that I absolutely love powerlifting. I also learned to let go of the scale and let my training do its job. I gained nearly ten pounds during training, but have minimal fat gain and a good deal of pretty new muscle.
Powerlifting isn't just about lifting as heavy as possible all the time. It's about listening to your body, understanding your own limitations, and knowing when to push those limits—all while using sound technical form. When I first started training for my meet, my form was off and that led to complications. When I stepped back and admitted I needed to make improvements before I could press forward, everything changed for me.
I can easily say that though I didn't hit PRs on the floor as far as numbers are concerned, I hit PRs using quality form and that trumps big numbers with mediocre form any day. I'm signing up for my next meet in November and it can't come soon enough.