I'm excited to announce that the Hip Thruster is now available in the UK and the rest of Europe!
After launching the Hip Thruster in the US, I can't tell you how many emails I received from people all over Europe, asking when it would be made available there. So to make it available as quickly as possible, I enlisted the help of my friend Chris Beardsley, who lives in the UK, and together we partnered with Metal Rhino, an amazingly innovative gym equipment manufacturer based in Northern Ireland.
So as of today, if you live in any of the European countries listed, you can buy the Hip Thruster and have it shipped to you right away.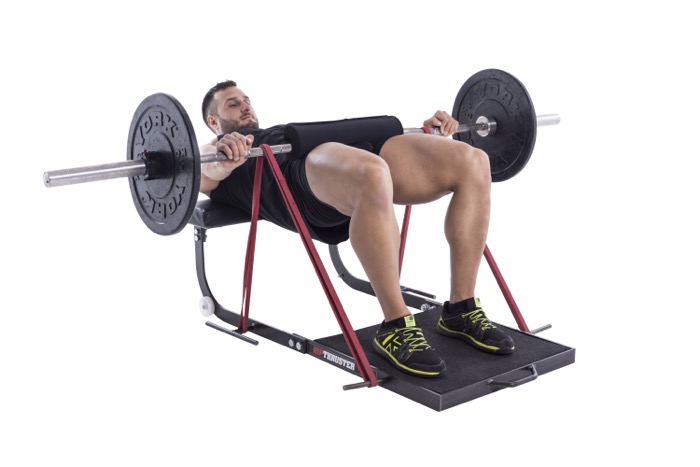 The Hip Thruster is the best way to do the hip thrust – stable and versatile!
The European Hip Thruster is pretty much exactly the same as the American version. The only difference is that it is made in Northern Ireland by Metal Rhino instead of in the US by Sorinex. I am excited to be partnering with Metal Rhino as even though they are still a relatively small business they have an incredibly strong manufacturing capability and a keen understanding of the demands of robust gym equipment.
I asked Scott at Metal Rhino what he thought about working with Hip Thruster and he said some very nice things about me and my invention:
"Bret has transformed sports-specific strength-training in our generation by alerting strength and conditioning professionals to the importance of the gluteus maximus.  The Hip Thruster is the single piece of gym equipment that will allow all athletes to maximize their benefits from this revolutionary approach. Metal Rhino are thrilled to be working alongside Bret to deliver this product and look forward to the day when the Hip Thruster can be found in every gym, all over the world." Scott Brady, Managing Director, Metal Rhino.
Click HERE to order your Hip Thruster now!