I was just thinking the other day that I've never written about glute marches. Glute marches are a simple end-range hip extension exercise that you can incorporate into your training from time to time. You're essentially alternating between brief bent-leg hip extension isoholds for the right and left hips while alternating between right and left side bent-leg hip flexion. Essentially this is a supine "marching" movement.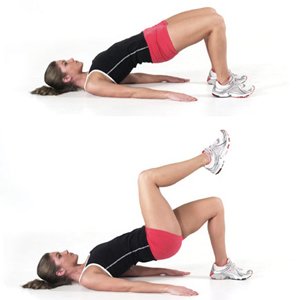 You can glute march from the floor or you can elevate the shoulders to increase the difficulty. Moreover, you can drape a chain around the hips and wear ankle weights to increase the challenge on the glutes and hip flexors.
You want to make sure that you don't twist or shift excessively from side to side. Keep the hips tall and lock the glute into hip extension with a strong glute contraction.