I just finished watching James Smith and Joe DeFranco's Power! video and was enthralled. In short, this is how athletes should train! Seriously you gotta get this DVD if you're a strength coach.
I love watching good coaching and good training. These guys are big names in the Strength & Conditioning profession for many reasons – they know their stuff, they get results, and they put out good information. Around eight years ago I purchased a Joe DeFranco DVD. I was amazed at how similar our training styles were. Not only did we had most of the same Elitefts equipment, but we had come up with many of the same methods on our own. Joe has been a big influence on my training over the years and every time I watch one of his highlight reels I have to go to the gym and train – I get all jacked up! I've mentioned in the past that Smitty is one of the top 3 most innovative guys in the field, not to mention respectful and humble. I'm a big fan of these guys' training methods and products as well.
When I heard that Power! was coming out, I had to get my hands on it. It recently arrived here in Auckland and I couldn't wait to watch it. They did not let me down. These guys truly put together a fantastic resource. I took some notes while I watched it so I could help these guys promote the video. Here are some things I noticed:
1. Great Blend of Book Smarts and Weight-Room Smarts
Nobody likes an armchair expert, but meatheads are often quite dull. Smitty and DeFranco have many years of experience under the bar and have collectively trained hundreds of athletes. But what separates them from the pack is not their wisdom, nor their experience, but the combination of the two. It's easy to have one or the other (experience or scientific knowledge), but to have both is a rare combo. In the video you'll hear them talk about dynamic correspondence, force vectors, power formulas, form cues, special considerations, and potential variations.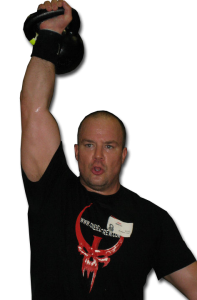 2. Home is in the Gym
I have no doubt that Smitty and DeFranco are great guys to train under. You can tell that they've earned their athletes' respect. I love watching good coaches in action and over the years I've watched Smitty coaching his athletes intensively and DeFranco timing and measuring his athletes' performances. I can tell that when these guys are training athletes they're highly involved in the process; teaching, motivating, and measuring. I suspect that most good trainers feel most at home when they're training folks; in the "real world" they feel like fishes-out-of-water, but the gym is their perfect environment.
3. Creativity
I have extensive lists of exercises and variations thereof. From bodyweight to barbell, band to kettlebell, plyo to mobility drill, I've seen it all. There are rarely any times where I gain a bunch of new ideas all at once, and this video provided me with plenty of new ideas to experiment with and most likely add to my repertoire. The creativity in this DVD is through the roof, and I believe that this creativity is very important to keep athletes excited about training. Athletes need to be gung ho about their training and I have no doubt that these guys' athletes come to train hard day in and day out and don't lose motivation due to boring and mundane programs.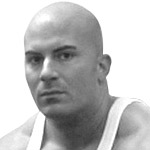 4. Hip Extension
This is the most important joint action in all of sports and these guys drill hip extension over and over. Whether it's via sprinting, deadlifting, jumping, thrusting, squatting, hinging, swinging, or skipping, they're doing a ton of it. You do this and it will be very hard to not produce a bunch of badasses.
5. Great Equipment and Synergistic Facilities
I believe strongly in setting up a gym with great equipment. You can do wonders with just barbells, bumper plates, squat stands, and chin bars, but it's nice to have a bunch of other ammenities too. DeFranco's gym rocks and I love seeing his athletes work together. You'll see them spotting each other, encouraging each other, and watching over each other. This is very important. As a strength coach, if you can educate and empower the athletes then you essentially have a ton of "employees" helping you with your job.
Where to Get the DVD
If you want to purchase the DVD, simply click HERE.
By the way, here is the testimonial I just sent them and I meant every last bit of it:
I've been following strength & conditioning trends for 20 years now. I'm a student of the game, and many people value my expertise. I can say without hesitation that Power! is the best DVD ever created for the purpose of showing coaches and athletes how to develop power. I can also tell you that the DVD contains the most up-to-date, innovative, and effective methods in existence. I've purchased dozens of products over the years and this one is without a doubt the most valued DVD in my possession. I appreciate the high-quality footage and effort that went into making it. I could say more but unfortunately I gotta run – I just watched the DVD and now I can't control the urge to go train! – Bret Contreras, MA, CSCS