Hi Bret! I'm a big fan of your blog and I've been working very hard on my glutes over the past several months. I've lost twenty pounds, and for the first time, my glutes are beginning to pop out and show some shape. I'm currently hip thrusting 80 kgs for 12 reps, and my squat and deadlift have both increased since discovering your blog and implementing your advice. Despite my gradual progress, last week, I hit a wall so to speak. I was looking in the mirror and I got so frustrated with my body that I just lost it. I started crying hysterically for hours it seemed. Sorry to bombard you with my personal issues, but I see the pictures that you post on your blog and I want my body to look like theirs. My body is changing, but not at the pace I'd like it to. What can I do to change my attitude? Thanks, Toby
Hi Toby! This is an important topic, and I receive similar questions like yours from women every single week. The first thing I want to say to you is – are you sure you want to ask a man for advice about a woman's topic? Haven't you seen the humorous pieces pertaining to this practice?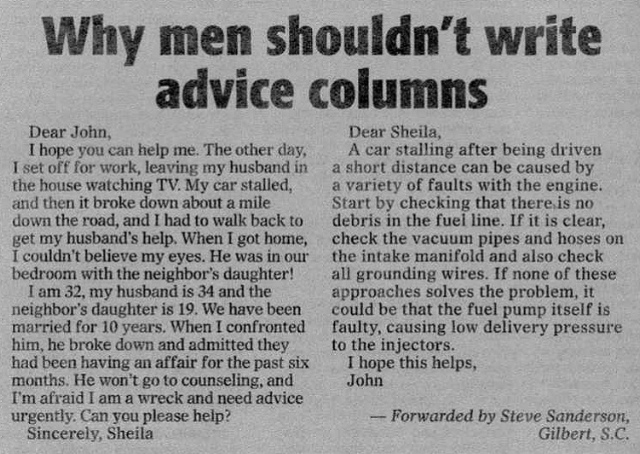 *Disclaimer: This Could be Absolutely Terrible Advice; I'm Just Trying to Help so be Easy on Me Ladies*
I fear that I'll be just like "John" above and provide you with horrible advice.
However, even though I'm just a meathead lifter with no psychological training, I'll do my best trying to provide you with a reasonable answer as I believe that this is a very important topic.
Research on Self-Esteem and Gender
I came across an interesting article titled, Sex, body-esteem and self-esteem. Here are some quotes from the authors:
Previous studies of body-esteem indicate that men and women appear to be concerned about different aspects of their bodies. Women tend to be worried about their weight and shape, while men are more concerned about their fitness (Fallon & Rozin, 1985; Cash, Winstead, & Janda, 1986; Rozin & Fallon, 1988). So it could be expected that women's self-esteem may be strongly influenced by their satisfaction with their weight, and men's self-esteem by their evaluation of their strength and fitness.
While some studies have identified particular aspects of body-esteem as related to women's overall self-esteem, there have not been similar findings about the relationship between body-esteem and self-esteem among men. For example, Silberstein, et al. (1988) reported that women's perceptions of their sexual attractiveness and physical condition were significant predictors of their overall self-esteem, but none of the dimensions of physical attractiveness, upper body strength and physical condition were significant predictors of self-esteem among the men in their study.
The study showed strong evidence that people's self-esteem is related to their attitudes toward their bodies. In general, favorable body attitudes, e.g., perceived attractiveness, were associated with high self-esteem, while unfavorable attitudes, e.g., body disparagement, were linked to low self-esteem. These results were consistent with the general findings of previous studies (McCaulay, et al., 1988; Pliner, et al., 1990; Stowers & Durm, 1996; Sondhaus, et al., 2001).
However, certain aspects of body-esteem appear to be more important than others to people's self-esteem. As expected, the salience of weight and shape was a significant predictor of self-esteem among women, as was perceived strength and fitness among men. Perceived attractiveness was also a significant predictor of self-esteem among both men and women.
In line with previous studies (Fallon & Rozin, 1985; Cash, et al., 1986; Paxton & Phythian, 1999), women reported greater dissatisfaction with their bodies than men. As expected, they were more likely to report feelings of fatness, including consciousness of lower body fatness, as well as concern with their weight and shape. On the other hand, men tended to report greater feelings of strength and fitness.
As you can see, women tend to hone in more on their physique for their body-esteem, whereas men tend to hone in a bit more on their strength and fitness. Check out this cartoon: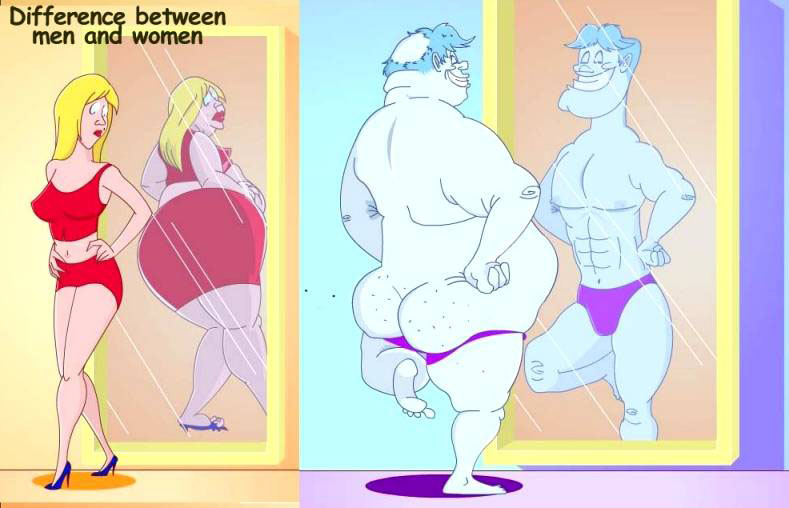 Perhaps you ladies have witnessed a man doing this (flexing in the mirror and admiring his physique) and found yourself fighting the urge to vomit. While I agree that it's silly, it's much better than the alternative – lasering-in on our problem-areas and getting massively depressed.
My Thoughts
We must all find ways to love our bodies.
Many women and men start working out in hopes of improving their physical and mental health, but somewhere along the way end up developing serious self-esteem issues, and their mental health actually worsens.
We all know fit and athletic individuals who have no self-confidence despite looking great, and we also all know "average" looking individuals who have great self-confidence despite their seemingly mediocre looks. In my opinion, the self-confident individuals are so much more fun to be around, and they attract more positivity and good fortune. So it's in all of our best interest to preserve our mental health and self-esteem as we work on our bodies in the gym.
This is easier said than done, as each day we are bombarded by images of "perfect" bodies with sculpted muscles and single-digit bodyfat levels. If I compared myself to these individuals every day, I'd feel defeated.
In fact, I regularly train at Revolution Training System, where I'm the one of the weaker lifters in the gym. However, this doesn't phase me, for reasons I'll mention below.
I suppose that all I can really do for advice is provide you with some things that I do and some things that I keep in mind and focus on in order to remain positive and maintain a healthy outlook. Here they are:
1. I compete against myself. I'm just trying to be a better and stronger me. I love it when my colleagues get stronger and fitter, and I don't compare myself to them.
2. Growing up, I was a skinny twig. I never in a million years thought that I could one day be considered "strong" or possess an "impressive physique" by anyone's standards. After many years of hard work, lo and behold, I'm pretty darn strong (especially at certain lifts) and I'm very proud of my physique. But my expectations weren't very high to begin with, so I was quite happy when I surpassed them.
3. I focus on the things I'm good at – I can deadlift close to 600 lbs, I'm incredibly strong at the leg press, barbell curl, weighted chin, and barbell hip thrust, I can hit a golf ball a mile long and crank homeruns out of the park, I can throw a size 15 bowling ball down the lane with amazing speed, my jab was stronger than all my sparring partners back in the day, and I'm a pretty good wrestler.
4. I justify the things I'm not so good at – sure my squat and bench press suck, but I'm 6'4″ with poor levers. I store belly and back fat, but I'm always 6 weeks away from being in awesome shape if need-be.
5. I'm freakin' proud as hell of my hard work. I train full-body 4-5 days per week, and the majority of individuals couldn't hack my workouts or match my consistency or work ethic. I'm able to "love my body" not for the way it looks or performs, but for how hard I train it and how much progress I've seen over the years.
6. I know that beauty is in the eye of the beholder, and there's no such thing as "perfect." One man's (or woman's) trash is another man's (or woman's) treasure. Bodybuilders and figure/bikini competitors don't look the way they do in their pictures year-round; they get into freaky shape and peak for a competition and then have their photographers photo-shop their pics.
7. I also know that happiness and self-esteem must come from the inside-out. We will never lose that last bit of fat, we'll never have perfect muscular symmetry, and we'll always have our "problem areas." Most women will shed bodyfat and improve their stubborn areas, only to find that their breast size shrunk. As men attain impressive levels of leanness, they often find that their legs or shoulders weren't as muscular as they once assumed and were filled in by a considerable proportion of fat. Even if it were possible to achieve "perfection," most of us would suddenly become too vain to notice and wouldn't be satisfied. Case in point, many of the hottest and sexiest celebrities and models have self-esteem issues and body dysmorphia. As you can see, pride in your body must come from within.  
These are some of the things that I do to "love my body" and walk tall and proud. You'll need to find your own things to focus on in order to keep a positive outlook, but hopefully you can steal some of mine.
If you train hard week in and week out and adhere to a healthy diet, be damn proud of yourself! If you're regularly squatting, bending, pulling, pushing, thrusting, lunging, and rotating, pat yourself on the back. THESE Olympic athletes are all proud of their bodies because they work hard and are fit, as do the ladies below. Don't compare yourself to others – just be the best "you" that's possible. Set reasonable expectations and don't be so hard on yourself. And most of all, please realize that you are more than your body! Your physique doesn't define you; it's only one component of your "self."  Think of the ten people you admire most in the world; I bet you didn't choose people based on their physiques.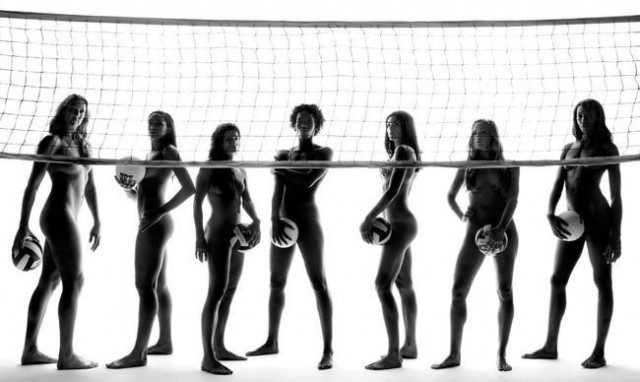 My readers will likely have much better advice for you.
And if I've provided horrible advice, I encourage my readers to chime in and call me out.
Readers: What things do you focus on  so you "love your body?"