Two weeks ago, I wrote a blogpost titled How to Fix Glute Imbalances. Since then I've received several questions from readers wondering how to determine whether someone possesses a glute imbalance.
Here are 4 different ways to tell:
1. Ask
Clients/patients are usually keen about their bodies, and they're usually well-aware if they have a glute imbalance. They can feel one glute firing harder than the other when they're performing exercises, and it feels "off." Therefore, you should always ask questions when clients/patients are exercising as there is much to be gleaned in this regard.
2. Palpation
Poke and prod both glutes during quadruped hip extension, single leg glute bridges, side lying clams, side lying abductions. See if equal tension exists in the glutes for the same movements. Also see if hypertrophy is equal in both sides. Poke upper and lower glutes as they function uniquely.
3. Strength
Ideally we'd all have access to dynamometry as we could see actual torque production in various movements from left and right sides. However, dynamometers are uncommon, so we must rely on exercises. This is tricky though, as there can be marked compensation. For instance, hip extension strength can be equal on both sides, but this doesn't mean that glute strength is equal as one side could involve greater hamstring/adductor firing. The same can be said for other glute actions (hip abd, hip ext rot) as they all have synergists. This is why palpation is also vital. Nevertheless, test to see if the movements are same in form from one side to the next. See if the same reps can be performed from right to left, and pick movements that are simple in addition to ones that are more challenging. For example, side lying clams, quadruped hip extension, single leg box squats, Bulgarian split squats, reverse lunges, skater squats, single leg glute bridges, and single leg back extensions can all be used for glute imbalance testing.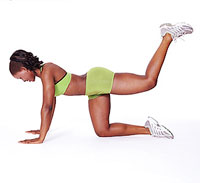 4. Symmetrical Movement
Test bilateral and unilateral movements for symmetry. For unilateral, "true" single leg movements are ideal here (pistols, skater squats, and single leg RDLs) as stability from the other leg isn't provided. See whether the movements are symmetrical, in particular, see if one hip rotates internally while the other remains more neutral? Also look at bilateral movements – squats in particular. See if the hips shift to one side as the movement descends.
I filmed a clip on this topic as this question is best answered in video format: