How a 41 Year-Old Mom of Three Got her (Figure) Groove Back
By Shelley Cook
The Beginning: Bret didn't want me.
Seriously, though, when I first reached out to him and asked him to coach me, I didn't even expect a reply.
But much to my surprise, I did hear back from him about a week later – and it was much more wordy and polite than I could have imagined! Right away I was thinking, Wow, what a genuinely nice guy! Unfortunately, Bret was too busy at the time and wasn't able to take me on.
I was sad, but I knew exactly what I wanted and needed to do to in order to be successful in a figure competition at my age. I had competed at age 36 and done well, winning the Masters and taking second in Open Short, but my backside had clearly been my weakest area and I hadn't carried much muscle.
So now, five years of training later, at the tender age of 41, I wanted to do it again. But I wanted to do it under the guidance of the guy that knew glutes, who supported the studies and practiced everything I believe in as a trainer. This wasn't just another figure competition to me; it was a matter of principle and testing what I'd learned.
Because Bret couldn't work with me, I went ahead and hired the next trainer that came recommended to me. This coach was very quick to reply to every email, but the training program ended up not being the best fit for me. The volume was simply too high, and the five-days-a-week body part split was more than my body could handle. By the end of the fourth week with him, my old injuries were starting to flare up. I was weary and exhausted, and I was beginning to dread going to the gym. I knew that I had to change course.
While I felt discouraged, I wasn't quite ready to give up. I knew I could do it alone, but I didn't want to; I wanted someone who would support me and guide me on my journey back to the figure stage.
So naturally, I did what any persistent and driven mother would do in my position: I went back to Bret and I begged him to reconsider taking me on as a client and I must have caught him at a weak moment because this time he agreed!
After swearing up and down that I would be a model client, he said he would help me provided that I work with Sohee Lee for my nutrition. They came as a package deal: either I work with both of them as a team or not at all.
I thought about it for a split second and agreed. I mean, come on! Sohee Lee?! As if I'd say no to that! Honestly, who gets to say that their training team is Bret Contreras and Sohee Lee? I signed up with them as fast as I could before they changed their minds. Here is where I started:
OMG did I really just post those?
Takeaways
For Everyone: Choose your trainer wisely. Just because they sell themselves well or your aunt lost 16 pounds in a week or the program is overly complicated or they train all the best figure girls does not mean it's the right trainer or program for you. Do a little research and think about what you are getting into before you commit. Be patient enough to shop around, ask questions, and get to know potential coaches you'd like to work with. In the end, you will likely save time, money, frustration, and potentially an awkward breakup with your trainer!
For Professionals: Lead by example, but please remember that your clients are individuals. Listen to them, check in to see how they are doing, and support them. Above all, try to help them find the diet and training plan that will make them feel confident, happy and excited about their effort and results.
The Diet: Flexible Dieting or Bust
This wasn't my first rodeo.
Following my competition in 2009, I put on 10 pounds in two weeks and another 10 in the month following that in a completely uncontrolled manner. I had felt so trapped and deprived by my low calorie meal plan that when I was awarded cheat meals, they would start at 4pm and go all night. I couldn't seem to come to terms with not being able to eat my favorite trail mix or homemade soup simply because it was too hard to track. I was so hungry for all the things I was missing that once I started I just couldn't stop. And then the guilt and remorse of what I had done would set in.
This started a chain of bad patterns that were really compounded once the competition was over and I didn't have a plan or any idea of how to back out. I didn't even see it happening until I hit the 125 lb mark. Twenty-five pounds over my competition weight in little more than a month…. Wow. That's when I first started to dig for a better way.
I studied all kinds of diets and their effects, from the studies done on the aftermath of concentration camp survivors to the current trends in physique diets. I soaked it all in and experimented on myself out of thirst for knowledge over the course of three years. During that time I also fell in love with coaching. I had been working with Elite hockey athletes doing off ice training and the more I did it, the more I loved it and realized my niche had been found. It was time to get the education I needed to coach and once again the studying began. I became an NSCA-CPT in 2012.
All those years of nutrition coaching and eating to support training meant counting macros was second nature to me and that is what made flexible dieting the obvious choice.
I was excited to try out this approach firsthand, and Sohee was amazing. Quick and thoughtful replies, impressively fast turnarounds, and prompt weekly check-ins. For those that don't know her, this girl is organized and runs a phenomenal program for online clients.
The macros she set for me surprised me at first because they seemed far too high for dieting calories. I mean, I know I can eat a lot of everything and take it like a champ (thanks to a great metabolism!) but I certainly expected the process to be a lot more excruciating. But it really wasn't that difficult. Just focus on hitting the macros, don't stress, and everything will turn out fine, she assured me.
Sohee started me out at a daily calorie intake of 1770, and by the end of my three-month prep, I was at 1570 calories a day with a weekly refeed. During this time, my bodyweight dropped from 118.0 to 110.0lbs and my waist measurement decreased from 25 to 24 inches.
Not only did I come in leaner, stronger and more energetic than I had before but I actually enjoyed my prep. I had no problem cooking and baking for my three teenaged athletes while keeping up with my workload and maintaining a healthy social life.
Yes, there were days that I got a bit hungry and I went to bed earlier because I needed the rest, but there were no feelings of deprivation, moodiness, lethargy, or fogginess that often accompany competition dieting. More importantly, I never felt like I had to fight feelings of impulsive eating or wanting to cheat or binge because I felt nourished and satisfied with my food choices which honestly included whatever I wanted. I had lattes and Starbucks breakfast sandwiches when I wanted them, ate with my family most meals and was even able to enjoy a Dairy Queen dipped cone with my girls on the Wednesday before I competed.
I would say this was by far the best part of my competition experience this time around. Honestly, I was a bit of a miserable bitch during my first diet experience, to the point that I felt sorry for my family. I wouldn't eat out, didn't want to socialize, hated cooking or baking because I was too hungry to handle it and I had little control over my temper or emotions.
This time there really wasn't a big impact – in fact, my 17 year-old daughter bragged to her coach that it seemed easy and she might want to do it someday. And we went to Cabo San Lucas for a week mid-prep with no big setbacks and had a total blast!
Here are a couple of the everyday meals I ate during prep (always plenty of colour and flavour when I'm cooking) and a pic of me in my size 25 jeans. Even though I wasn't overly hungry, I think it's safe to say I was pretty lean.
Takeaways
For Everyone: There are a thousand and one ways to diet, but be wary of titles, fads, and buzzwords. Know what you are looking for and research your trainer. You want someone who is genuine and science-based and practices what they preach.
For Professionals: Please remember that people hire us to help them. They trust us to show them the way to achieve a healthy balance lifestyle and that can look different for every client. You have the power to transform their lives in profound ways – do not take this responsibility lightly.
The Training: Should It Really Still be Fun?
Upon receiving my first training program from Bret, I felt scared. Umm, seriously… that's it? This can't be right. The training volume was a fraction of what I was used to. I combed through the workouts over and over, convinced that some pages were missing or that I'd overlooked some detail. But nope, that was it. Four to six exercises per day, three to four days a week, plus 10 minutes of optional time at the end of each session.
What really took the coaching to the next level were the things Bret said and didn't say to me. He talked about the mind muscle connection and striving to reach for PR's every week, focus on form and getting a strong contraction where you are supposed to. Those simple instructions stuck with me though every workout.
No empty pump ups, meaningless explanations, or self-promoting words were ever spoken. When I needed support and encouragement, it was given, and there was praise for every deserved achievement.
Bret gave me a lot of freedom with my plan and trusted me to do the work I needed to do. I felt more like I was part of a special team than just another dollar sign. This inspired me more than any other method ever had.
The real magic was in the programming, of course. It seemed so simple, yet my glutes responded within weeks, and I could literally feel them developing higher and rounder than they had ever been before. And I don't use the term "magic" lightly: at 41 years old, I didn't know my body was still capable of responding in this way. I even continued to hit PR after PR throughout the first 10 weeks of my contest prep while in a caloric deficit. I looked forward to every workout and stayed injury-free – and that was just as important, if not more, to me as the final result. Throughout this prep, no feelings of inadequacy, weakness, or failure ever crossed my mind. What a concept!
Here is my rear view 2009 vs. 2015 (please forgive the picture quality):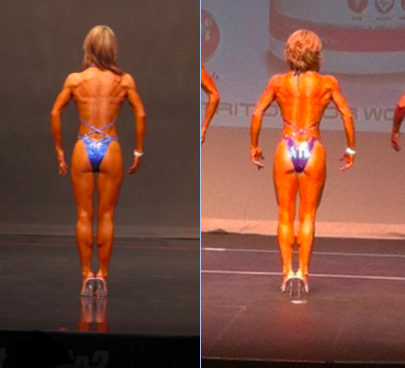 Takeaways
For Everyone: More isn't always better; it's just more. Try not to get caught up with chasing fatigue or thinking that hours of cardio or two-hour lifting sessions are the answer. It doesn't have to suck. We are only built to handle so much before we burn out or get injured. Hire a trainer that knows how to get the same results with the least amount of work possible so you can maintain it long term. Workouts should you make you feel better over time, not worse, so why kill yourself if you don't have to?
For Professionals: It is our job to build confidence in our clients. Some respond well to the drill sergeant approach but others might need a bit of hand holding, independence, or encouragement to help them find their way. Try to be open to feedback to your clients and tailor your coaching style to the individual.
The Competition: It's Not Really That Complicated
Prep week was almost anti-climactic compared to what I had done before.
At first, I was a bit disappointed that there was nothing drastic happening. No water loading, low calorie days, depletion workouts, or pre-comp fat load. Basically, it was just more food, less heavy training, and a little extra glute work.
But I didn't realize until after the show how great this really was. The program was easy to follow, stress-free, and had little impact on my regular life. Show day was a breeze!
As I mingled backstage with the other competitors, I was once again appalled by their stories of dehydration, starvation, deprivation, and exhaustion. To hear that some trainers were cutting clients water on Wednesday for a Saturday show made me question the sanity of the trainer and client alike. I was saddened to learn that in the six years since I'd competed, little had changed in that respect.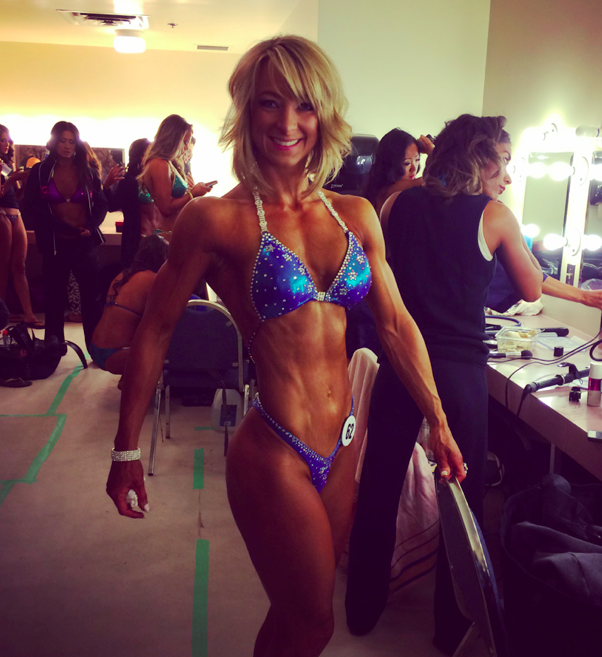 When my turn came to hit the stage, I was pumped, energetic, and ready to pose my head off – and that is exactly what I did.
Admittedly, I was scared, and the nerves of show day got to me temporarily as I scrutinized my physique. My prep was pretty easy – should I have suffered more? I asked myself. Should I have eaten less? Maybe done more cardio?
I got all worked up for nothing, apparently, because the judges liked what I brought to the stage! I was rewarded with a first place finish in Figure Masters, which qualified me for Provincials (where I placed 5th two weeks later as an all-natural athlete in an untested show, thus qualifying me for Nationals next summer).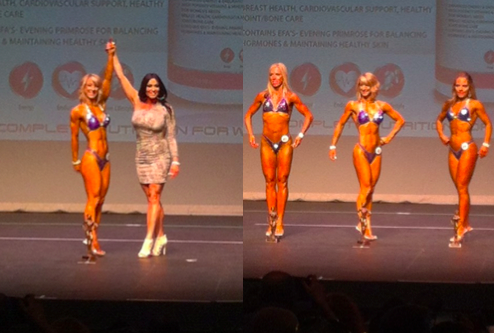 Throughout the process, I had some moments of doubt, but throughout it all I managed to keep my initial promise to Bret and stuck to the plan. I trusted my trainers and maintained a high level of commitment to the program, and they were right there with me every step of the way.
Bret and Sohee made this not just possible but enjoyable by giving me a joint program that suited my lifestyle in a healthy, well-balanced way. I went into the competition confident, energetic and excited thanks to smart, sane, science based coaching, and came out a winner.
Here's a shot from the between show photo shoot, just me in my suit and heels chillin with a big ass rope, naturally.
(p.s. If you ever book a photo shoot, please remember to bring a change of clothes 😉 but hey, who cares… I mean look at that GLUTE!)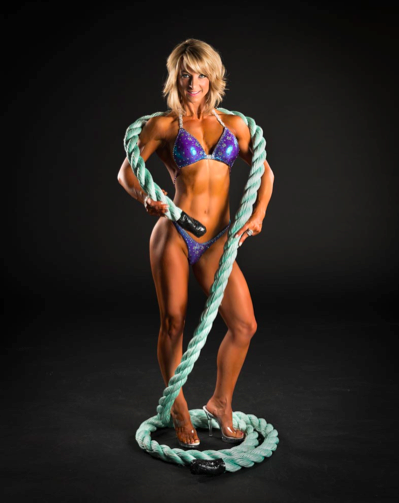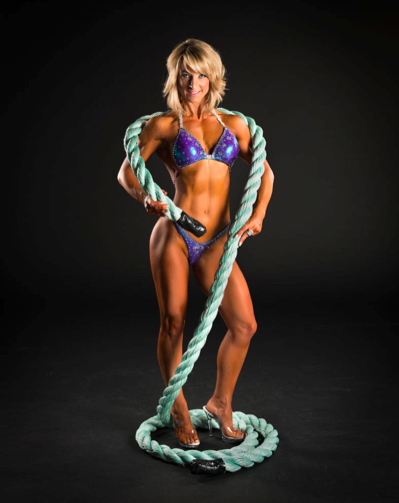 Takeaways
For Everyone: Competing requires consistent time and effort but it by no means has to suck. If you have the discipline and genetics to build muscle don't let the horror stories hold you back.
For Professionals: Coaching a physique competitor requires unique skill, sensitivity, knowledge, and experience that isn't covered in most certification courses. If you aren't confident that you can provide your clients with a safe, healthy, and effective experience, please take a step back and invest the time into getting the experience and education you need.
The Aftermath: No Rebound, No Problem
After the show, while my fellow competitors were gorging on all the foods they could get their hands on at once, I was pretty disinterested. I enjoyed a nice meal and glass of wine out with my family and friends and was perfectly full and satisfied. Considering my other experiences with dieting, this was the most comforting feeling.
I am always conscientious of the fact that I am a role model for my athletic teenaged girls and my clients. I am also a huge advocate of leading by example so it very important to me to show them I was making smart, healthy choices throughout the entire process. I feel like we accomplished that and then some.
It has been a month now since I competed, and after a thoughtful week of reverse dieting, I had a discussion with Sohee about what nutrition approach was best for me during my off season. After a little bit of back and forth, we determined that, while some people fare better when diligently counting their macros year-round, moving away from strict macro tracking and instead wading the waters of intuitive eating would be in my best interest and help me maintain my happiness and mental sanity.
[
See related: Should you track your macronutrient intake?
]
Nowadays, I'm holding my weight easily at 115-116, which is a mere 5lbs from the weight I competed at. Though my look is softer, I'm still lean and athletic because I train consistently and moderate my nutrition intake. I'm perfectly happy right where I am without weighing or measuring a thing.
Within three weeks of competing, I was back setting lifetime PRs in the gym with endless energy and motivation to thrive in all areas of my life. I'm looking forward to competing in Nationals next year the exact same way!
And here is a shot of the most important reasons for staying healthy and well balanced: myself and my two beautiful daughters on Mother's Day 2015.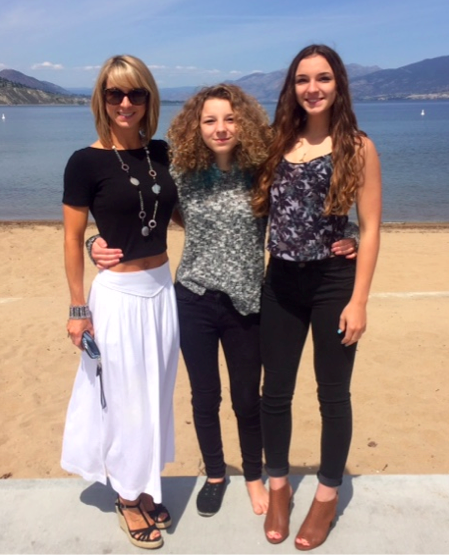 Takeaways
For Everyone: There are so many ways to diet, from simple portion control or macro dieting to repetitive or restrictive meal plans to extremely complicated and low carb diets, but at the end of the day we all show up lean and ready. The only difference is how much we enjoyed the process and whether or not we will rebound when we return to our regular lifestyle. Try not to make it more complicated than it needs to be.
For Professionals: It seems to me that a lot of coaches will get their competitors to the stage in shape by any means possible but some will ignore the rebound or forget to help them return to a normal diet and lifestyle. The fallout can be difficult, lonely, even disastrous for some. Please make sure you have a plan for your clients safe and healthy post competition experience.
Here are the real life before and after photos. No tan no filters… just a 42 year old mom in her underwear.