For the past 20 years or so, I've been reading strength & conditioning articles claiming that the hamstrings are primarily composed of fast-twitch fibers. I can recall repeating this same information to lifting partners way back in the day. In ten minutes, with a quick Google search, I found articles from plenty of well respected individuals in the strength training community claiming that hamstrings are mostly fast-twitch (hundreds of other articles claiming the same exist, but I chose to link authors or sites I'm familiar with), including:
Bret Contreras
12 Hamstrings Exercises for Hardasses
Charles Poliquin (and Staff)
Ten Ways to Prevent Hamstring Pulls
Fast Track to Bulging Hamstrings
Technique Tips for Powerful Hamstrings
Improving Your Glute Ham Raise
Vern Gambetta
Hamstring Injuries: A Problem With a Clear Solution
Men's Fitness
Romanian Deadlifts: Unlock Your Leg Muscles
Muscle & Fitness
Iron Mag
Body Conquest: Troubleshooting Q&A
Josh Bryant
Workout of the Week: Build Strength and Size in Your Legs
John Davies
Hamstring Development for Athletes
Christian Thibaudeau
The Lost Art of Hamstring Training
Kelly Baggett
How to Create a Speed Machine Using the Weight Room
Rob King
Lee Boyce
Three Ways You're Messing Up Your Romanian Deadlifts
Menno Henselmans
Muscle Specific Hypertrophy: Biceps, Back, and Lower Body
This claim even went unquestioned in a peer-reviewed journal article: see HERE.
But are they really? Where did this claim first come from? Did the originator of this claim just read one study, or did he examine the entire body of evidence? Did we all just follow the leader and repeat his claims without doing our due diligence? I know I did. 

Today my colleague Chris Beardsley summarized the research on muscle fiber types. Click below to access the article:
As you'll see, there are six studies that have examined the fiber type composition of the hamstrings. You can click on the link to explore these studies, but one study shows 67% fast twitch composition, while the other five show 55%, 51%, 50%, 44-54%, and 43%. Based on this data, at this point in time we cannot say that the hamstrings are primarily fast twitch. They appear to be an even mix between fast and slow twitch.
I've yet to see any studies exploring the hamstring and gluteal fiber type composition in sprinters; it is quite possible that they could have higher percentages than typical individuals, and maybe this is what helps give them an edge. However, this is yet to be examined.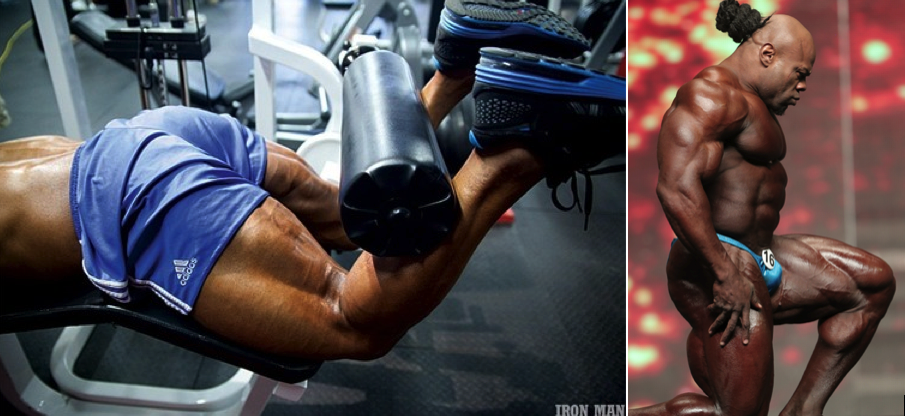 So what does this mean? Should our training be different if we want to maximize hamstring development? Maybe. While there are plenty of great hamstrings exercises, including deadlift variations, back extensions, good mornings, glute ham raises, reverse hypers, and kettlebell swings, let's consider what bodybuilders do for their hamstring development.
Bodybuilders have the biggest hamstrings out of all athletes, and they will typically perform 3-4 sets of 3-4 different hamstring exercises. Usually one is a hip extension exercise that stretches the hamstrings such as a stiff legged deadlift, and 2-3 of them are different types of leg curls (lying, seated, standing one leg). They typically perform their leg curl variations for medium to high reps (8-15) with around a minute in between sets. This equates to somewhere between 72 and 240 reps of knee flexion exercise (probably around 120 reps is reasonable).
This added volume has to add up and make a difference. Leg curls activate the lower hamstrings to a greater degree than deadlifts, they induce high levels of metabolic stress, and they don't beat up the CNS like deadlifts do. As an industry, we were wrong about the fast twitch predominance, and our training recommendations were suboptimal for lifters seeking hamstring hypertrophy. Now, there is evidence that sprinters' hamstrings contract faster than those of sedentary individuals, perhaps due to fiber type shifting, so sprinters need to go heavy and be explosive in their training. But if you're seeking gains in hamstring muscularity, don't be afraid to perform high volume leg curl workouts. Just make sure you're performing a hip extension movement too (deadlifts are always a good choice).