Hi Fitness Peeps!
A few things to share:
1. Strong Curves Update
Thank you very much to everybody who chimed in and jotted down an Amazon review. I very much appreciate it. I'm at a loss as to how to increase the book's popularity. My publishers told me to do two things: 1) get lots of attention on blogs and social media sites, and 2) get lots of reviews. Both of these took place, but the book appears to have peaked and lost steam already.
I need to be thinking bigger. Maybe I'll record a Youtube video with a plea to Dr. Oz to get me on the show haha! I feel that 98% of women should be doing the Strong Curves plan for their training (per their goals) – it makes so much sense to me (this is how I train my women and the results speak for themselves). I suppose I should be happy that we were at #4 at one point (top five).
2. What Needs to Happen to Create Nice Glutes (Personal Trainers: Print this Out and Show it to Your Clients)
The most popular image out of the book, based on input I've received and images embedded onto Facebook, is the one below: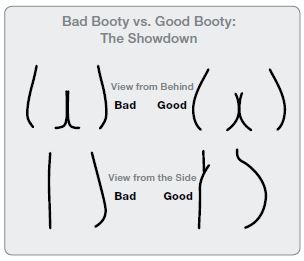 This cracks me up – I created this image on Paint and assumed that the publishers would bring in a graphics designer to improve upon it, but I guess they liked it. Sure it's a bit exaggerated, but it illustrates an important point.
I show this image to personal training clients so they understand what needs to happen. Their glutes need to grow markedly. Sure they need to lose fat surrounding the buttocks, but they also need to build muscle. Best way to build glute muscle – get freakishly strong at the hip thrust. Eating well and getting much stronger through intense workouts whittles away the fat, and building glute strength creates the shape.
When clients know and understand this, they will push themselves harder and do their homework (I prescribe them reverse lunges and single leg hip thrusts to do on their own), which makes my job much easier.
3. The Evolution of Glutes
Check this out: the evolution of the gluteus maximus!!! Squats and Hip Thrusts to the rescue!
Which color do you like best? I like green, blue, and red the best.
4. How to do Back Extensions Without an Apparatus
Some of the Strong Curves buyers are already emailing me asking how they can do back extensions if they don't have an apparatus. Here is a good way – just do them off of a standard bench:
5. How to do the American Hip Thrust
The American hip thrust is different than the standard hip thrust. I love both variations. Though I perform the standard hip thrust more often, I make sure to throw in the American version from time to time – based on my preliminary EMG investigations it leads to even greater glute activation than the standard version.
That's all for today my fitness brethren! Keep thrustin', BC