Ladies and gentlemen, please allow me to introduce you to Roselyn Kennedy, a regular badass. Here's how I came to learn about Roselyn. Last week, I was tagged in an Instagram post – I think it was her husband Frank who tagged me. Anyway, the video showcased Roselyn hip thrusting 500 lbs for 2 reps. Since Roselyn has some of the strongest glutes I've ever seen, I was curious to find out exactly how she trains. I decided to email her to inquire about her training, and we ended up exchanging several emails with one another.
Roselyn and her husband Frank Kennedy own United Cross Training, a gym based in Sugar Land, Texas. She recently lost 23 lbs over a 9 month period, check out the results!
Over the past year, Roselyn busted her ass, setting squat, deadlift, and hip thrust PRs. She can squat 255 lbs, deadlift 325 lbs, hip thrust 500 lbs x 2 reps, and hip thrust 365 lbs x 10 reps. When she set her squat and deadlift PRs, she weighed 140 lbs, but she's recently put 7 lbs back on which is when she set her hip thrust PRs. Below are the videos:
Squat 255 lbs
Deadlift 325 lbs
Hip thrust 365 lbs x 10 reps
Another view of the hip thrust 365 lbs x 10 reps
Roselyn is not happy with the technique in her squat video, apparently she was trying out a closer stance when she hit that weight  because she was dealing with a injury (her fibula popped out of placed). She usually  has a wider stance on her squats, but It was a PR with a different stance.
Not to take the spotlight off of Roselyn – she's the rockstar here. But one thing that I find interesting is that she fits a particular profile I've noticed – the decent squatter/good deadlifter/great hip thruster with a high-hipped roundback maximal deadlifting style profile. Roselyn, Sammie, and myself all fit this profile. Each of us are much stronger at the deadlift compared to the squat. Each of us pull with high hips and rounded backs when maxing out. And each of us can hip thrust a ton. I think that our glute strength is far superior to our quad strength, and this leads to less impressive squats, roundback maximal pulls, and serious hip thrust power. I hope to one day get to conduct research on this hypothesis using isokinetic dynamometry, but below is a chart showing our strength (I had to use an online calculator to estimate some of the 1RMs).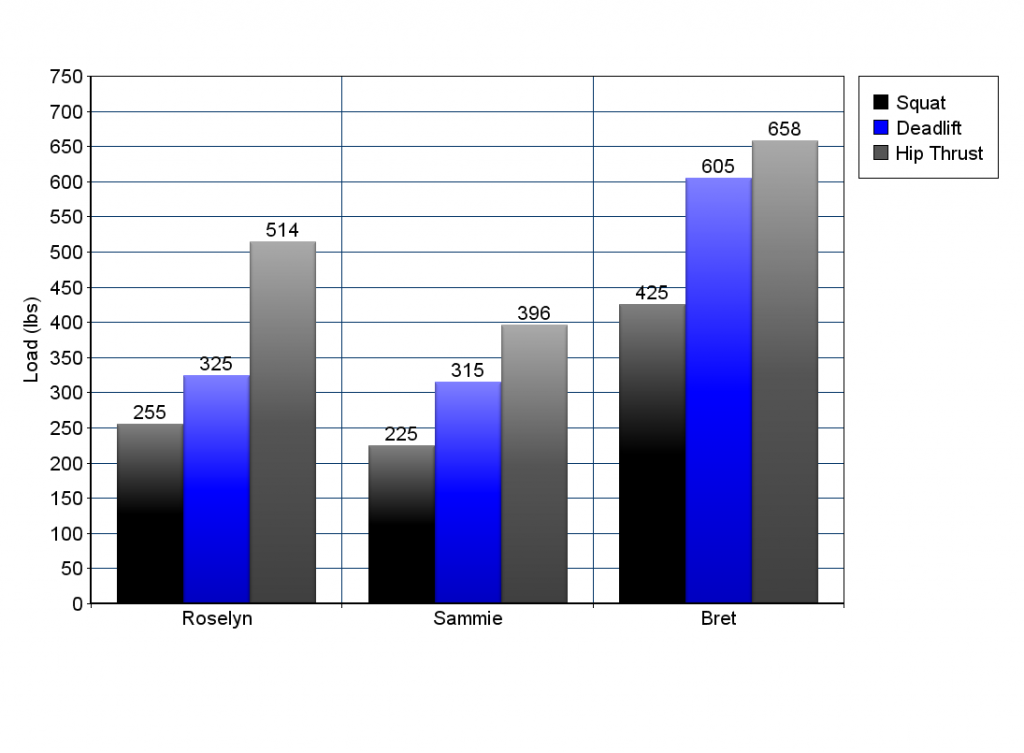 I asked Roselyn about her training program, and she was kind enough to send it to me:
MONDAY
Back Squat
6 Reps @ 45%
6 Reps @ 55%
6 Reps @ 65%
6 Reps @ 70%
6 Reps @ 75%
6 Reps @ 80%
1 Rep @ 85%
1 Rep @ 90%
1 Rep @ 92%
Deadlifts
6 Reps @ 85%
Barbell Walking Lunges
6 Reps / 4 Sets @ 145lbs.
Tuesday
5 sets of supersets of:
Dumbbell Row's 10 Reps
Close Grip Bench Press 8 Reps
5 sets of supersets of: 
Pull Ups 8 Reps
Bodyweight Back Extensions 20 Reps
5 sets of supersets of: 
Underhand Grip Barbell Rows 10 Rep's
1 Min Planks
Wednesday
Hip Thrust
20 Rep's @ 70%
10 Rep's @ 75%
6 Rep's @ 80%
5 Rep's @ 85%
3 Rep's @ 80%
1 Rep @ MAX
Sprints / Meter's
5 @ 20
4 @ 30
3 @ 40
2 @50
1 @ 60
3 @ 40
5 @ 20
Thursday
5 sets of supersets of:
Push Ups 15 Reps
Hanging Leg Lift's
5 sets of supersets of: 
Hang Cleans 8 Reps
Balanced Deadlifts 12 Reps
Mid Incline Bench Press
5 X 5 @ 75%
Seated Banded Hip Abduction 20 Reps 5 Sets
Friday
Repeat Mondays Training, Cancel out Deadlifts and replace with:
4 sets of supersets of:
Stiff Leg Dead-Lifts 8 Reps
Box Squats 6 Reps
________________________
Every 16 Days she changes Hip thrust to 3 times a week one day would be volume EX:
1st Day Reps 20,10,6,5,3,1
2nd Day Reps Bodyweight 20 X 5
3rd Day Reps 6 X6 @80%
Also, she changes Squatting to 3 times a week 2 days would be volume EX:
1st Day Reps 8,5,3,1
2nd Day Reps 12 X 5 @ 65 – 67%
3rd Day Reps 20 X 3 Bodyweight
The accessory work varies depending on goals and weaknesses at that time.
Here are the links to United Cross Training's social media:
Keep it up Roselyn and Frank!