After 22 years of lifting weights, I tend to think I know it all. However, this couldn't be further from the truth. Even the most seasoned and intelligent lifters still have much to learn, as long as they open their minds to receiving knowledge. I've paid close attention to the bodybuilders, the powerlifters, the strength coaches, and the sports scientists, I conduct my own experiments utilizing EMG, force plates, motion capture, and more, and I'm known as the freakin' Glute Guy, so I tend to think that I'm the expert on all things glute-related. Due to my ego, it is very natural for me to assume that other experts don't know what I know and can't teach me anything new. I'm glad that my ego didn't get the best of me when my friend Joy Victoria visited me two weeks ago, as her advice turned out to be very important and fruitful.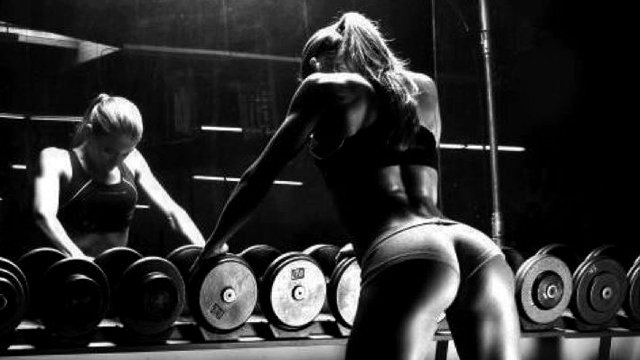 Focus on the Eccentric Component
I watched Joy perform her band hip thrusts, and I noticed a very subtle difference in the way that Joy performed her movements compared to the way I perform them. See VID00091 and VID00092 for clips of Joy training at The Glute Lab with me. I started grilling her with questions, and I listened to her feedback. She said that once she began focusing on the eccentric component during hip thrusts, she began feeling her glutes working to a greater degree, and it helped her to better control her pelvic posture. I informed her that I was going to tinker with this over the next few workouts and experiment on myself. Boy was I in for a pleasant surprise.
Eccentrics
I've written and spoken a lot about eccentric training over the years. In my own training, I always make sure to control the eccentric phase when performing certain lifts such as American deadlifts, barbell curls, flies, good mornings, glute ham raises, chins, dips, bench press, incline press, military press, lunges, and back squats. However, I realized that with other exercises, such as hip thrusts, back extensions, seated rows, bent over rows, and chest supported rows, I was just letting gravity do its thing in allowing for the eccentric phase to take place. Though I was good about getting a big isometric squeeze at end-range with these movements, I'd then "release the brakes" and shut my muscles off during the eccentric component and then turn them back on late in the lowering phase to reverse the movement and initiate the concentric phase. In fact, with hip thrusts and back extensions, I tended to think of them as just rapid concentric glute squeezes.
Glute Eccentrics
Chances are, you already do a good job of paying attention to the eccentric gluteal contraction during certain movements. However, I'd like for you to extend this list to movements that you might not control quite as much during the lower phase with the glutes. When you perform hip thrusts, keep the glutes turned on during the eccentric phase, and feel the muscle absorb and reverse the movement. Do the same for back extensions, goblet squats, and American deadlifts. You will not be able to achieve quite as many repetitions as you're normally able to get, but it will make a big difference. How so? Let's revisit Brad Schoenfeld's 3 Mechanisms of Muscle Hypertrophy, which are:
Mechanical Tension
Metabolic Stress
Muscle Damage
By controlling the eccentric portion, you'll notice the following:
1. Increased tension during the lowering phase – the lowering phase is likely more critical for muscle hypertrophic gains than the lifting phase, so this is important. See an article by Chris Beardsley HERE for more on this topic.
2. More metabolic stress – since you won't be shutting the muscle down completely during the eccentric phase, you'll produce more constant tension on the glutes, and blood won't get a chance to escape. This equates to a bigger burn and a better pump. This will be the most apparent mechanism that you'll notice by focusing on the eccentric portion – the burn is crazy. See an article HERE by Brad Schoenfeld for more on this topic (or HERE for another).
3. Greater muscle damage – the eccentric phase is damaging to muscles, so you might notice some additional soreness that you didn't experience in the past. See an article HERE by Brad Schoenfeld for more on this topic. However, know that soreness tends to be overrated, so don't use this as your primary gauge for your workouts (see HERE for more on this).
In essence, by paying attention to what your glutes are doing during the lowering phase and not just the lifting phase, your glutes will receive a greater hypertrophic stimulus via 3 different mechanisms. Give this a try just like I did, and I suspect that you'll notice better results from your training. Thanks Joy for the glute tips!