I've been on a terror lately and have four things to share with you today.
1. Interview with Kyle Bohannon on The Art of Physical Fitness Show
Kyle Bohannon recently gave me an awesome interview. I'm quite the name-dropper. Throughout the interview I mentioned John Broz, Jen Sinkler, Kellie Davis, Marianne Kane, Joy Victoria, Sohee Lee, Cassandra Forsythe, Michael Boyle, Charlie Francis, Westside, Mel Siff,Yuri Verkoshansky, Pavel Tsatsouline, Stu McGill, Joe DeFranco, and Smitty.
Here are the notes:
0:00 – 2:00 Introduction
2:00 – 6:26 Response to the 120 Tips on Strength Training for Women Article
6:26 – 13:36 Is There Such Thing as Overtraining?
13:36 – 21:31 Hip Extension, Hip Hyperextension, Knee Flexion, Pelvic Mechanics (Squats, Deads, Oly Lifts, Hip Thrusts, and Back Extensions)
21:31 – 23:48 Glute Ham Raise
23:48 – 37:04 Single Leg vs Double Leg Debate
37:04 – 39:13 Load Vector Training
39:13 – 44:05 Oly Lifting vs. Kettlebell Swings for Power and Accommodating Resistance
44:05 – 46:45 Forces During Kettlebell Swings and Snatches
46:45 – 49:22 Special Workouts for Powerlifting
49:22 – 50:55 Assistance Lifts for Deadlifts
50:55 – 56:55 Powerlifting Meet Strategy
56:55 – 59:31 Strong Curves and Kellie Davis
59:31 – 61:04 Fitness Summit Discussion
61:04 – 64:47 Erector Spinae Exercises
2. Glutes are Made in the Gym Graphic
One of my readers sent this to me the other day. I love it!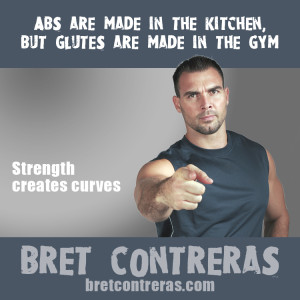 3. Your Top 12 Urging Booty Q's; Answered! Interview with Glute Expert Bret Contreras
HERE is an interview I did with Isabella from My Fit Station.
4. Bret Contreras Interview :: Train Your Glutes to Get a Bangin' Booty
HERE is an interview I did with Zoe from Get Zomt.
Okay that's all fitness folks. Have an amazing week!