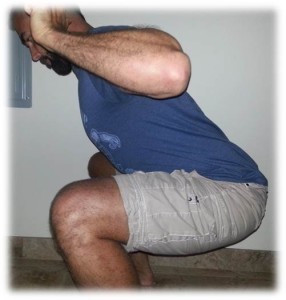 I've discussed squat depth in multiple articles over the past couple of years. I've talked about hip anatomy HERE, and I've talked about buttwink HERE. But how do you know what your ideal squat depth is?
Get down into the squat position and find the exact moment where you start to lose your lumbopelvic positioning – you need to keep the arch in your lumbar spine – no going into flexion, and keep the tilt in your pelvis – no going into posterior pelvic tilt. Make sure you stay planted on your heels and don't rise up onto your toes. From there, you can determine if you want to go slightly deeper, but keep in mind that there's only so much wiggle room and it may be best to play it safe. Here's a video that better explains it:
Robert A. Panariello MS, PT, ATC, CSCS
Professional Physical Therapy
Professional Athletic Performance Center
New York, New York
In recent years the gluteal muscle group has received much notoriety in the physical rehabilitation, fitness, and sports performance industries. Bret Contreras is one individual who has certainly carried the "gluteal torch" on his website, in books, and lectures in an attempt to educate sports performance and fitness professionals of the significance of this muscle group. The gluteal muscle group includes the gluteus maximus (one of the most powerful muscles in the body), medius, and minimus, which together make up the buttock. There is also documentation from those who consider the small tensor fasciae latae part of this muscle group as well.
Today, I'm going to share a discussion on Facebook that I recently had with Todd Hargrove and Greg Lehman. I'm not always confident with my understanding of things, but I've developed great "go-to guys" over the years when I'm seeking answers in various topics, and Todd and Greg are well-versed in areas pertaining to manual therapy.
I lift weights every day with a ton of strong dudes. Nearly all of them foam roll. I foam roll and use the stick and a lacrosse ball too. Are we all just a bunch of dumb meatheads falling prey to The Placebo Effect? Or is there more to foam rolling than meats the eye? Are we changing mechanical properties in the fascia? Or are there other mechanisms at play?
In 1970, the average United States citizen spent $356 on healthcare. This figure rose to $8,402 by 2010.  When ranked as a percentage of GDP, healthcare costs were 7.2% in 1970 and 18% in 2010 (1). As you can see, healthcare costs have risen tremendously over the years. It is therefore in all or our financial best interests to take care of our bodies. Here are five such things that you should probably do every single day; things that will help you maintain proper functioning and prevent costly medical expenses later on in life.
Deep Squat
Why it's a good idea:  The deep squat will help you maintain your hip flexion mobility (a technical way of saying that you'll retain the ability to squat all the way down) throughout life. The deep squat is performed much more commonly in many Asian and Middle East countries and requires 95-130 degrees of hip flexion and 110-165 degrees of knee flexion (which is a lot of range of motion) (2,3). If you use this ability, you'll keep it. If you don't, however, you'll lose it. Dr. Stuart McGill started performing this drill daily and credits it for helping him retain his hip function and prevent hip replacement surgery (4). If you're a lifter, you want to retain your deep squat ability, as it's been shown to lead to greater vertical jump transfer, quadricep and hamstring hypertrophy, glute activation, hip extension torque, postactivation potentiation, and deep squat strength compared to shallower squatting (5-10).