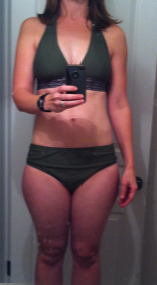 Shelley has been a Get Glutes member for over a year and a half. When she first started, she wasn't very happy with her physique.
Can you imagine how she would have felt if someone informed her that in a year and a half, she would gain 4-5 more pounds of body weight? She would have been pissed off for sure. As it turns out, that's exactly what happened. And what if she'd been told that she would work her butt off in the gym for 18 straight months, but then been shown the following graph that charted her changes in measurements?
Again, she would have been highly discouraged. But this is exactly how it went down. Shelley busted her butt in the weight room for 18 months, and the weight on the scale didn't budge (it actually went up 4-5 lbs), and her measurements didn't change to much degree.