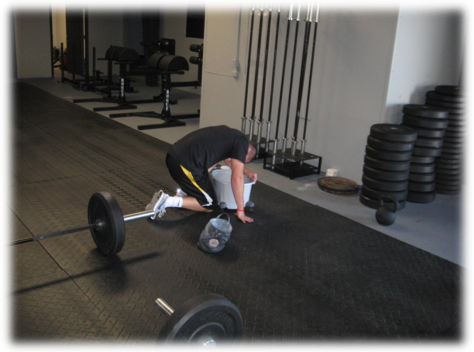 Addicted to Fatigue
Jim Kielbaso
The more programs like CrossFit and Insanity gain mainstream traction, the more people seem to use their level of fatigue as a barometer for the quality of a workout. Once you get accustomed to grueling workouts, it's as though you crave the feeling of fatigue. If you're not crushed at the end of a workout, you feel like it was a weak session. But, if we're puking in a bucket or can barely walk, it MUST have been fantastic.
Throw in all the positive reinforcement we get about this –non-stop social media posts about how hard someone's workout was today, YouTube videos of people trashing themselves, etc. – and it's hard to avoid this trend.
Perhaps the most annoying aspect of being a fitness professional is having to inform people over and over that spot reduction is a myth.
When did this misconception originate? Interestingly, a journal article published by Checkly in 1895 proposed that the dissipation of fat is local and disappears in areas where the muscles are highly active in concordance with their daily activity. However, subsequent research failed to support the author's contention of spot removal, as you'll see below. In this article, I'm going to set the record straight, once again. There are two aspects of physique enhancement training that you need to be aware of: muscle building, which IS site specific, and fat loss, which IS NOT site specific.
Ugh! Energy system development! I don't know if you're anything like me, but I hate cardio, I hate intervals, I hate complexes, I hate Tabatas, and I hate high reps. In fact, I hate anything that involves multiple repetitions. To me, heavy lifting is where it's at! Sometimes my lower body workouts will consist of five singles of heavy squats, three singles of heavy deadlifts, and a couple of low rep sets of heavy hip thrusts before calling it a day. Yes, I've had workouts that had me performing around 14 repetitions in the entire workout (not including warm-ups). What can I say, I'm a low-rep kind of guy! Force me to perform a set of 10 reps and I'm liable to throw a tantrum and walk home. Oh yeah, my gym is my home so never mind (I have a garage gym). While this strategy may be great for strength, it leaves much to be desired for hypertrophy and fat-loss.